Nike has released the NikeFuel Map dedicated to London and its runners. With the new map, the sportswear brand is encouraging the Londoners and visitors to the capital to explore the city outside the Tube on foot. The new effort highlights the tracking NikeFuel wristband, which measures athletic activity of a wearer during the day.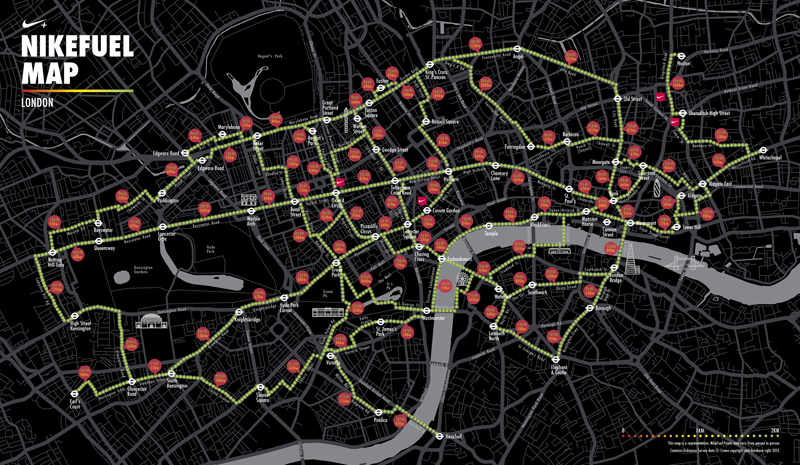 The map features a detailed network of routes and destination for walking between Zone 1 Tube stations. The stops go with names in white and the walking routes are marked with green dots—all against the black background. Nike measured the length of each route (in green) and the number of the NikeFuel points one can earn by walking it (in yellow)—this info is highlighted in red bubble signs.
The idea of the map was developed by urban geographer, researcher and keen walker John Bingham-Hall, who has in person explored the "scenic diversions to ensure Londoners were able to see the best of their city." The Centre for Advanced Spacial Analysis, part of University College London, used the routes walked by Bingham-Hall to build "a mathematical and accurate map." The data was then visually enhanced and rendered into a graphically impactful map by designer and 'visualizer' David Luepschen. Watch the video to find more about the creation.
The NikeFuel Map can be either downloaded here or bought in the pocket-sized version at the brand's stores—at Niketown London, Boxpark, Stratford, Covent Garden and White City. So far, Nike hasn't shared any plans on creating similar maps for other cities.