Burger King is introducing improvements to the French fries, a product often perceived as one of the major contributors to the obesity problem. The No.2 fast food chain has dramatically reduced the amount of calories in the popular item on the menu—it now includes 40% less fat and 30% fewer calories than the similar offering in the rival chain, McDonald's. Due to its "lighter" character that delivers more joy than guilt, the new crinkle-cut product was named "Satisfries."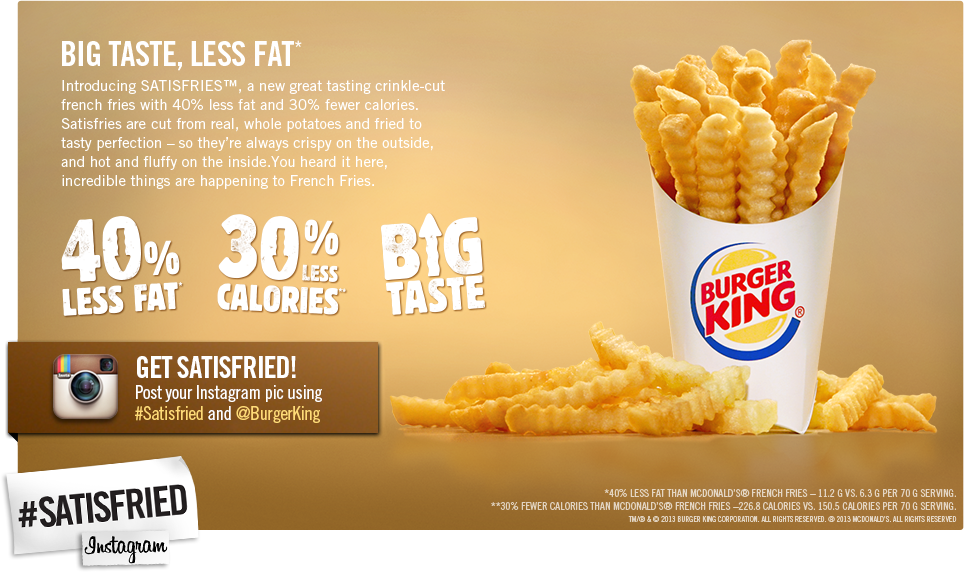 The revolutionized recipe of Satisfries ensures that the French fries absorb less oil, "only enough to keep each great tasting crinkle crispy on the outside and fluffy on the inside." The smallest serving of Burger King's latest innovation contains 190 calories and is available at about $1.29, while the same amount of the regular French fries contains as much as 240 calories. They also look different from the predecessor—they've got a "wavy" surface. BK will be offering regular fries along with Satisfries. The brand has also launched a mini movement to support the healthier offering—it encourages  customers to document their Satisfries experience with Instagram. The launch was supported by the #WTFF (What The French Fry) teaser campaign, initiated on Friday.
"One out of every two Burger King guests orders our classic French fries and we know our guests are hungry for options that are better for them, but don't want to compromise on taste," commented Alex Macedo, President North America, Burger King Worldwide, Inc. "We see Satisfries as one of the biggest fast food launches and are excited to bring this great tasting French fry to our guests."
With this move, BK wants to make its own contribution to healthier eating, trying to be neck and neck with other leaders in the market, which are constantly improving their food offerings. For instance, last year McDonald's rolled out its Favorites Under 400 Calories menu and announced its goal to reduce sodium by 15% across its U.S. menu by 2015. Earlier in 2013, Taco Bell announced its plans to keep 20 percent of its combo meals in the limits of 1/3 of the federal government's daily nutritional guidelines by 2020.