Ahead of the cold and wet season of flu outbreaks, the Kimberly-Clark-owned Kleenex has readied something more than just a new bunch of strawberry-flavoured tissues.
The brand has developed an online tool Achoo that 90% accurately predicts in which city the germs will strike next. The forecasting model is based on the data from Centers for Disease Control, so is predictive by nature, unlike other flu trackers such as Google Flu Trends and the Cold-FX app, which show where the germs persist.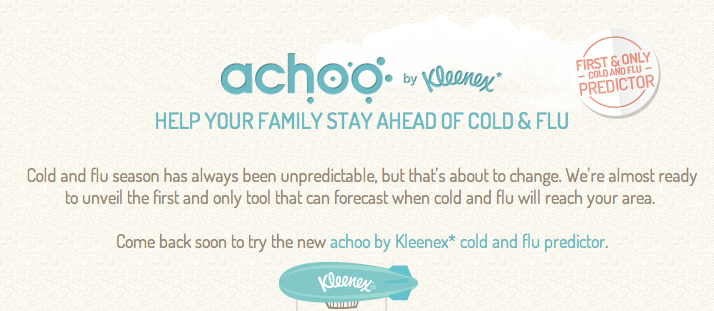 To back the invention, Kleenex is launching a nationwide promotional campaign "Kleenex Checkpoints" starting September 25th in the Windy City, Chicago. Then the nomadic effort will travel to other cities that will appear on the Achoo flu radar. The campaign will be largely supported on TV by the ads developed by JWT New York, featuring people who haven't managed to stock up on Kleenex tissues ahead of the flu season and had to sadly sneeze right into their hands.
The Achoo cold-predicting tool as well as the "Kleenex Checkpoints" experiential campaign are the great example of marketing that cares, not just sells more. Another bright initiative by the brand in the U.S. was targeted at junior and middle school students who could take part in "scientific" experiments to learn more about the issue of sneezing.