By 2018 sustainable lifestyles will be big business, so the markets are on the cusp of a big change, a new joint survey "Value__Gap: The Business Value of Changing Consumer Behaviour" by BSR and Futerra reveals. 
In early 2013, BSR, an American sustainability-focused consulting company, together with Futerra, a London-based sustainability communications agency, launched the Sustainable Lifestyles Frontier Group (SLFG) to research what drives sustainability behavior among consumers, how to accelerate it, and how those shifts will change the market in five years.
For the research, they surveyed 54 of the world's leading brands such as Carlsberg, Disney, Mars, eBay, Loreal, Mondelez International to name a few, through the workshops held in Europe, North America and Asia to build a clearer picture of the business case for sustainable behaviour change.
Consumer behaviors that businesses want to change (for better)
Most often, brand want to change behaviors that directly relate to their product or service, i.e. recycling of product packaging, or creating wider social benefits, i.e. educating consumers about healthy lifestyle. In general, when asked about behaviors they'd like to influence/change, the respondents most often named:
Recycling
Community
Engagement
Buying sustainable products
Healthy living
Waste reduction
Water saving
Responsible drinking
etc
Are consumers interested in changes?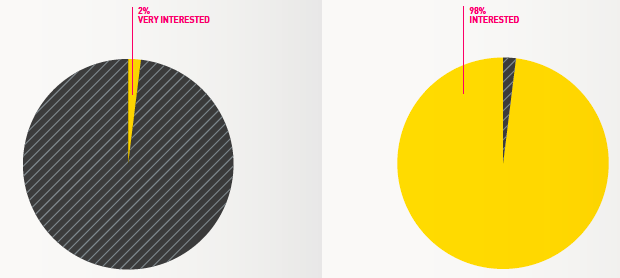 Surprisingly enough, only 2% of consumers, as the respondents think, are now "very interested" in sustainable lifestyle, but around 98% of them are predicted to get interest in 5 year's time.
Are companies interested in changes?
Just 40% of companies surveyed are proactively working on encouraging sustainable lifestyles, while more 40% plan to do so in 5-year time.
Where's the value?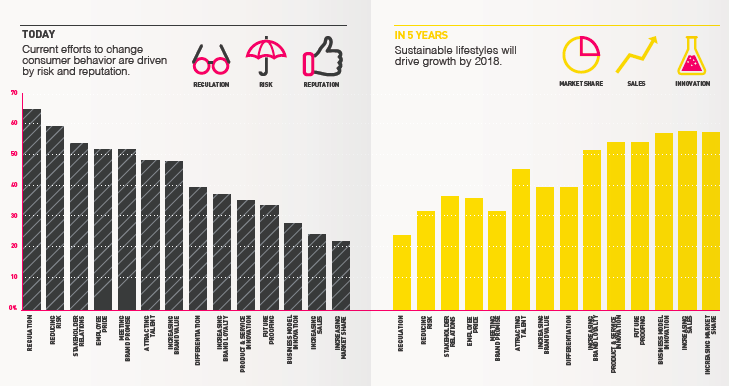 More than 50 of 54 companies say that their efforts to change consumer behaviour are driven by risks, regulation and reputation, while by 2018 will have been driven by innovation and market share.
What actions are needed?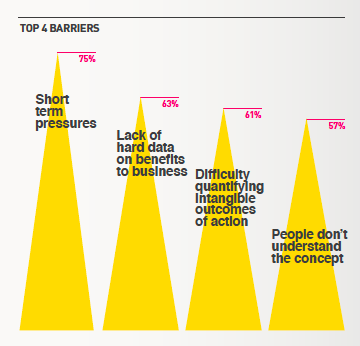 The surveyed brands shared their concern on what prevented them to be more proactive in changing consumer behaviour, among them were:
Short-term pressures (75%)
Lack of hard data on benefits to business (63%)
Difficulty quantifying intangible outcomes of action (61%)
People don't understand the concept (57%)
Who are the leaders of changing behaviour?
When asked about the leading brands who perform best in driving sustainability lifestyle, the respondents most often sited:
M&S
Patagonia
Levi's
Zipcar
Airbnb
Coca-Cola
Toyota
eBay
Whole Foods Market
Puma
Nike
Unilever
Method
BMW
and others
Which industries are doing the most/least?
Today the companies from such industries as Food and beverage, Automotive and Energy are the best performers in driving consumer sustainable behaviour. The poorest performers here are the Financial services providers, Aviation and Telecoms. The respondents admitted that Consumer electronics, Aviation and Transport and logistics would be the worst at meeting sustainable business expectations in a few years.
Outcomes
Despite the barriers, outlined in the survey, the сompanies share expectations that consumer behaviour will change toward sustainability lifestyle over the next five years. In the nearest months, SLFG are to launch a Business Case Builder that will include definitions, business case guidance and case studies.
The full report is available at the Futerra website (in PDF).