Samsung has unveiled a simple, yet handy app that helps people establish new connections based on their likes on Facebook. The feature dubbed Samsung Like Companions has been launched to promote Samsung GALAXY S4, the smartphone unveiled in March 2013 as a "life companion."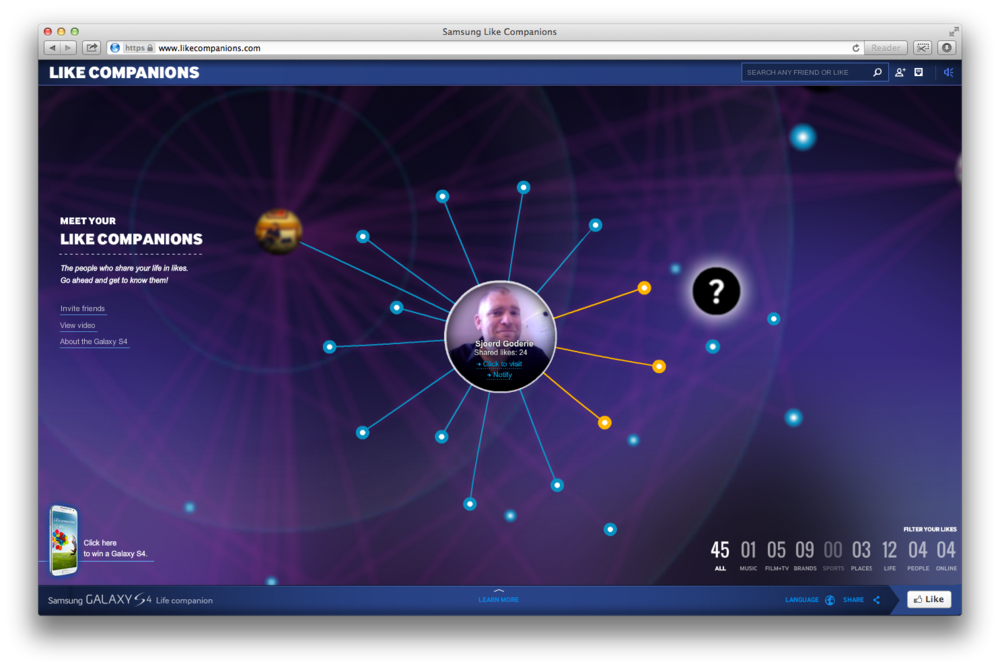 The web app, developed by Energize Amsterdam, sources data from a user's FB profile and analyzes the likes in various fields. Then, it proceeds to analyzing the likes and the acquaintances database to find people who share the same interest with the user—it may be both friends and people outside this circle. In the end, the engine builds a breathing graph of connections, where friends are marked with their profile pictures, and the "not friends yet" go with the question mark sign instead of a photo.
Users are invited to "say hi" to the disguised people in the graph—once they accept or, in other words, "greet back," the user will be able to see their profiles. Before they do so, the user can view their Like Companions' other likes, but the friend-to-be identity remains under wraps. The likes can be filtered by brands, films, places, people, online and more.
"Connectivity is evolving at the speed of light. New friendships are already being founded based on shared interests through social media. And Facebook remains the medium where everyone shares their interests by liking content," commented Jesse Ridder, creative at Energize Amsterdam.