The National Trust is rolling out the 2013 Great British Walking campaign, encouraging people in the country to explore local terrains on foot, capture their experiences and share them on Twitter, Instagram and Facebook using the hashtag #GBwalk. To inspire the nation, the organization has revealed top 10 "secret discovery walks" in different parts of the country.
The suggested trails can only be accessed on foot. Each of the walks includes a so-called hidden gem at some point of the route—that is "a hidden viewpoint, newly accessible coastal paths or the story of an old legend." The list of routes includes the walks around the White Cliffs of Dover, Dunstanburgh Castle on the Northumberland coast, Malham Waterfall in the Yorkshire Dales, Trelissick in Cornwall, Erddig in Wales, and more. The National Trust provides short descriptions of the trails and invites to download secret maps with nice hand-painted watercolor imagery for free.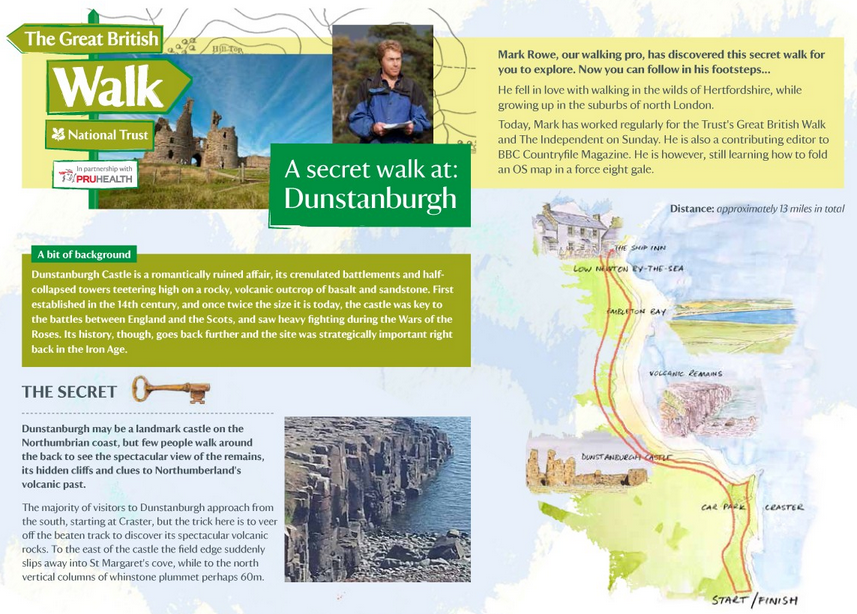 Ahead of the launch of this year's Great British Walking, The National Trust conducted a survey among 1,000 people, showing that nearly one in four respondents walk less than five miles a month. With this, one in six never goes away more than 500 metres from their car. Nine in ten adult respondents think that modern kids walk less now compared with when they were young themselves, and nearly two thirds (61%) say they walked more as they were children. Moreover, 58% confessed they would like their children to go outside and walk more.
"The Great British Walk is all about celebrating the outdoors and discovering new places on foot. There is something magical about walking somewhere new and uncovering its story, and the Great British Walk is the perfect way to join in and discover something new," commented Alex Hunt, the National Trust's lead.