Twitter has introduced Twitter Alerts, a new international feature that will notify mobile users and spread critical information about emergencies, natural disasters and other force majeure moments when the other communicational lines are not accessible or overloaded.
"Twitter Alerts is a new way to get accurate and important information when you need it most," writes Gaby Peña, Product Manager at Twitter, in a blogpost.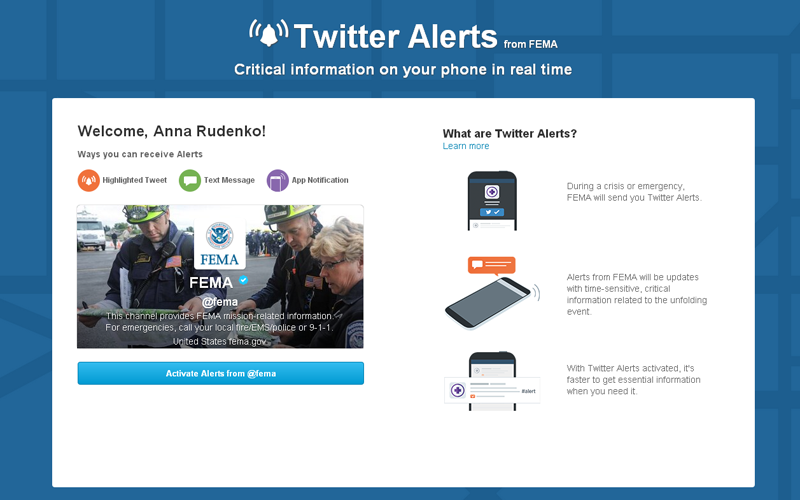 After activating the service, the user will get notifications directly to the phone when the account indicates some Tweet as an alert. The notifications will be sent as a text message, and if the person uses Twitter on iPhone or Android, the service will also send a push notification to the mobile device. Marked with an orange bell, the Alert notifications will pop up in the home timeline along with regular Tweets. Find the "how it works" guide here.
Users can activate alerts from a particular organization by going to the account's set up page at twitter.com/[username of the organization]/alerts. Each organization that is a member of the program will indicate it in its profile.
The Twitter Alert service builds on the success of the Lifeline service, introduced last year in Japan. The company hopes that the new feature will help users do better in the tough times of natural disasters and emergencies with the help of timely notification from the trusted sources. As for now, there's a pool of organizations in the U.S., Japan and Korea that are authorized to send Alerts to Twitter users.
The micro-blogging social media company says that the service will soon expand as more public institutions and NGOs across the globe are invited to join in. More details are unveiled here. The guide for public safety organizations is available here.