Bombay Sapphire is selecting the last winner of the second annual "Imagination Series" film competition. In April, budding filmmakers were challenged to create a short film based on a script by Academy Award-wining Geoffrey Fletcher. So far the jury has named four finalists, while the fifth one is to be defined by public voting online.
The four winners are: London-based screenwriter Anthony Khaseria (Reflections), Spanish bookseller and comedian Maite Fernandez (Grafitti Area), screenwriter from London Chris Cornwell (Exit Log), and U.S.-based film student Kiara Jones (The Other Side of the Game).
The fifth film-maker will be chosen from these shortlisted entries: a comedy film titled Cutie Pie by Effie Woods (UK), thriller Tea Time by Karen Pessina (Italy), drama The Search by Giles Borg (UK), comedy Need for Speed (Dating) by Allyson Morgan, USA, and an animation piece titled The Value of Freedom by Hiroshi Momose (Japan).
The voting period is open through November 14, with the winning entry to be announced on November 29. Go here to vote.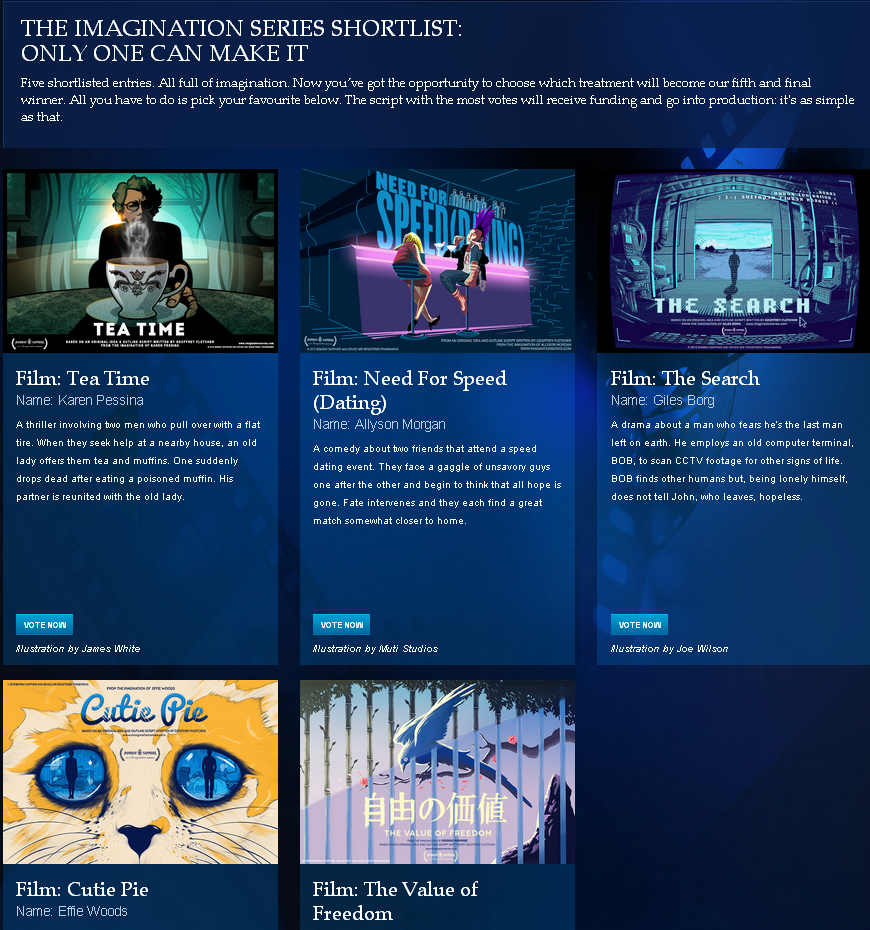 All of the five films will be premiered during the Tribeca Film Festival in 2014 on April 16-27, and the winners will be granted a 3-night trip for two to NYC to attend the event.
"We are committed to sparking people's imagination and uncovering new talent through the Bombay Sapphire Imagination Series Film competition," commented Bombay Sapphire Global Marketing Manager Luca Vescovini. It's exciting to see how the Imagination Series has grown and after only two years it has almost doubled its entries receiving more than 1,300 submissions from 68 countries across the world."
Watch the winners of the first year here.