Grow your moustache, gentlemen, upload them on Facebook and raise funds for Movember—the Heinz-owned sauce brand HP Sauce generously supports and helps raise awareness of the moustache-growing initiative in the UK.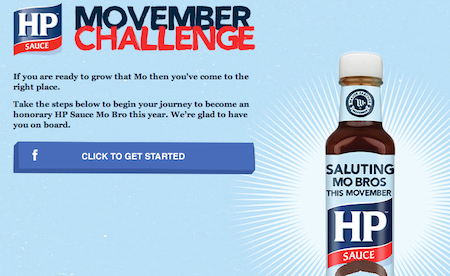 Every year throughout the month of November, the international charity Movember addresses the problem of men-specific health problems like prostate cancer, testicular cancer and men's mental state, helping to raise funds to cure those affected by the disease.
HP Sauce's marketers decided to engage idle Facebook fellows with four meaningful and fun weekly challenges. They are asked to register to grow a Mo at Movember.com as well as through a themed Facebook app, where they can upload pictures of their moustaches to compete for the weekly prize—a £50 top up to their Movember fundraising account. There are also 500 'kick start' five-pound top ups that will be given away throughout the month to those signing up to the app.
An overall winner will be chosen based on all four rounds and given a £500 charitable donation to help with their Movember fundraising efforts.
The campaign has been developed and implemented by the global social media agency We Are Social.