We've talked to Jonathan Ford, Designer and Founding Partner of Pearlfisher, now the CCO, about the Challengers & Icons podcasts, a series of live interviews with inspirational leaders. Why and for whom did the agency launch this project a year ago—find out in the interview below.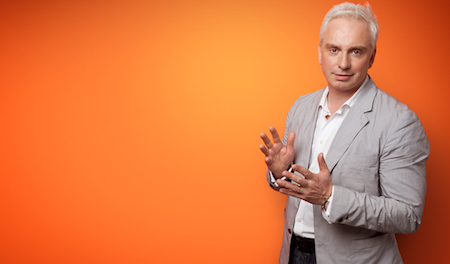 —Why Challengers & Icons? What's the mission of the project?
—At Pearlfisher we design for Challengers & Icons, the people and brands that are changing the future—those that are creating impact and change, and those that will be loved forever through the successful realization of ideas and creativity.
Over the years, we have demonstrated award winning and effective creativity for iconic clients like Target, Starbucks, Absolut Vodka, Waitrose and Cadbury Dairy Milk amongst others.  We have also established a great reputation in helping build some of the most successfully innovative and era defining Challenger brands like Jamie Oliver, Green & Black's, Innocent and Help Remedies.
This series talks to inspirational and exceptional iconic brand owners or leaders as well as the most exciting challengers, who have gained success through fearlessness and the power of self-belief in their product expression. Most icons were once challengers and most challengers want to be icons. The series explores the tipping point and unpicks invaluable insight and advice as to how our best-loved and most successful brands have used creativity to inspire change.
—Was it your personal initiative or a collective decision? Why audio and not video? 
—It was my personal initiative (to push myself into a new area, harness the digital world and then improve the series by inviting criticism and support) – but the Challenger & Icon focus and philosophy – is a seamless part of how we operate as a company. It was largely driven by the fact that we were turning 20 and thinking about our achievements and clients without getting clichéd and nostalgic or bathing in glory. We have had the privilege of working with some very cool brands and people and what connected them—if anything—was of interest to me. My interest in Challenger thinking has also resulted in the launch of our new book 'Have No Fear'. 
The podcast series started as an audio initiative but we have just produced a film for our most recent interview with the warm-hearted and generous Jo Malone and this is a format that we want to expand and develop moving forward as part of our future plans for the series.
—It is an inspirational and motivating initiative but what was your initial purpose? What are you hoping to achieve for you and your interviewees?
—Thank you. It's still a bit raw and coming-from-the-heart stuff which I hope won't, over time, get smothered by too many production values, but that will take on more of a distinctive personality and possibly other formats—which I'm currently working on.
Brand owners are asked to give so many interviews and opinions about what has made them and their brands successful. We wanted to find a new and dedicated way to showcase the powerful relationship between Challengers & Icons for brands and business and to give our interviewees the opportunity to talk about the power of creativity, design and innovation in this context rather than, yet again, trying to answer dozens of tried and tested business questions. And, in this way, provide valuable—but a more tailored and creative—insight for future brands and entrepreneurs.
So, in that sense, it's a unique series and we have had great feedback from so many different sources. Added to that, the caliber of brand leaders wanting to be involved speaks for itself- with Jo Malone and David Butler from Coca-Cola taking the hot seat next. And there are still so many great brands and individuals on our wish list. Watch this space – and of course if you are one of these of people and are interested in taking part, let me know!
—So far you've made 13 interviews, and talked to different people from various areas—from publishing to meat production to pharmacy. What personality trait, do you think, unites all these people?
—Yes, so far we have aired 13 interviews but have 3 in the bag waiting to go. Only a few of these have been our own clients. After working with so many great Challengers & Icons, and with them being the inspiration for us to create this initiative, we wanted to include some of them to get the ball rolling but they are there on their own merit and not through any sycophancy. But, primarily, we started out by thinking whom our dream clients would be and why? Why are they icons? Why and what are they challenging? We focus on those brands that have made a creative impact—a creative turnaround in business—and ask them to talk us through their journey.
I think the breadth and diversity of the individuals, their brands and the industries they work in, just shows that—rather than external factors or sector popularity—it is about their own self-belief, passion, drive and willingness to take a risk that drives an idea through, garners commercial success and creates sector and societal change.
—Does the leader's personality affect the performance of a challenger brand? If so, how?
—I would say, from what we've heard so far, that, definitely yes, it confirms what I've always felt or witnessed first-hand that it definitely has a major part to play. This is a question we have thrown back to many of our interviewees. Whether they feel that their success has come from business acumen or from passion and not being afraid to follow through with their dream. Most have confirmed that it has been the latter. Most state that Challengers and entrepreneurs are born and not made. But, interestingly, every interviewee to date has been humbly magnanimous about their desire to keep learning and where they look for this learning and inspiration; a self-awareness and realization that they need to keep challenging—both themselves and their brand—to stay on top.
—All (or almost all) these brands are profitable. In your opinion, what is needed to turn a great idea into a great new profitable business?
—Having a great product, service or innovation is imperative but again, I think it comes back to self-belief. It's about having the courage of your convictions to drive an idea forward and to source the right help for the next step. Ironically, it is often seen as harder to push through an idea in a large corporation unless you drive a creative culture from the very top. The financial infrastructure is obviously not in question but new innovation can meet with a huge amount of corporate red tape, politics and hoops to go through before seeing the light of day. By which time the idea has become 'old hat' or watered down.
And, interestingly, we have seen some of our smaller brands and innovation hubs bought up by corporations to help these giants innovate better and foster change—and secure future profitability for both. If we look at, for example, Innocent, Honest Tea and Coca-Cola, we can see that a good brand can grow to prick the conscience of many a Goliath and continue to make change as part of a corporation.
—As a designer and entrepreneur, what challenger brand/business (probably, a recently launched one) do you consider the most life-changing, groundbreaking and breathtaking?
—I think it's probably looking at the phenomenon of social media as a whole and the change that it can bring about. Think about it—your single mobile device can now do the tasks of a multitude of individual products, books and services. When that power is truly in the hands of the entire world's population, the on and offline brands that harness—or are indeed created—by that reach will have changed the world and changed themselves—for the better.
In one of the podcast interview I spoke to Claire Diaz Ortiz, head of Innovation for Twitter who gave me a really powerful view on how Social media access has transformed attitudes, societies and governments and institutions around the world. For a brand to have that power and be free and good is the key to understanding what is possible—even if you are not an online brand. It's really worth a listen.
Recently I was fortunate enough to hear Felix Barret of Punchdrunk productions talk. Felix and Punchdrunk have challenged the whole conventions of the theatre/audience concept by creating immersive environments in which you—the audience—become an active and explorative part of the story. His shows in London and New York like the Drowned Man and Sleep No More are truly breathtaking.
Then I think about the challengers who have become iconic and in doing so have retained their original spirit in their own businesses. So then it comes down to personal favorites, like my namesake Tom Ford, for whom every creative detail matters and is the key to his success.
—I feel that Pearlfisher is a rare sort of the creative agency that seems to thoroughly pick only sustainable, beautiful and meaningful clients/projects—just like your interviewees? Is that correct? 
—We have a reputation for working with and creating both Challengers and Icons through design. Like any other number of agencies, we take on pro bono projects per year for charities and individuals close to our hearts. We do have ethical and sustainable policies but we are inclusive, not exclusive. I always doubt those companies that have a "green team"—it should be embedded. I admit ours is an impressive client list—and one we are immensely proud of – but this is not through any sort of rigid or controlled plan. We seek and attract like-minded clients and work best with people who value and want great design but who also know how to affect change effectively. There's plenty of clients we are not right for and a few we say no to for 3 reasons—you can read about that on our website—so that at least creates a filter of sorts and stops us wasting time.
—What advice would you give to young aspiring designers/entrepreneurs?
—Put the designer or creative part of yourself first. Let it shine and don't let your words be spoken by, or hidden behind, the grey people. Always believe in your uniqueness but never stop asking questions and challenging yourself. Be prepared to take a risk.
Pearlfisher, as a company is made up of two studios in London and New York, and we champion risk taking and not being held back by your fears. Fear is repressive in life and design and all fear stems from lack of awareness and ignorance. You have to be brave, seek out and create the new and take risks along the way—which once you are aware of, aren't really risks anyway. Those that challenge, discover and dream will create impactful change. Pearlfisher is a design company full of change-makers.