Nike reviews the 10+ years of the international sports career of LeBron James, the basketball icon of today and one of the brand's ambassadors. To mark the occasion, Nike has created an interactive experience "LeBron James: A Decade in the Making" that highlights every milestone of the player's on-court evolution since he made his debut for the U.S. national team at the 2004 Olympics. Along with a retrospective of his achievements, Nike features styles from the LeBron shoe series.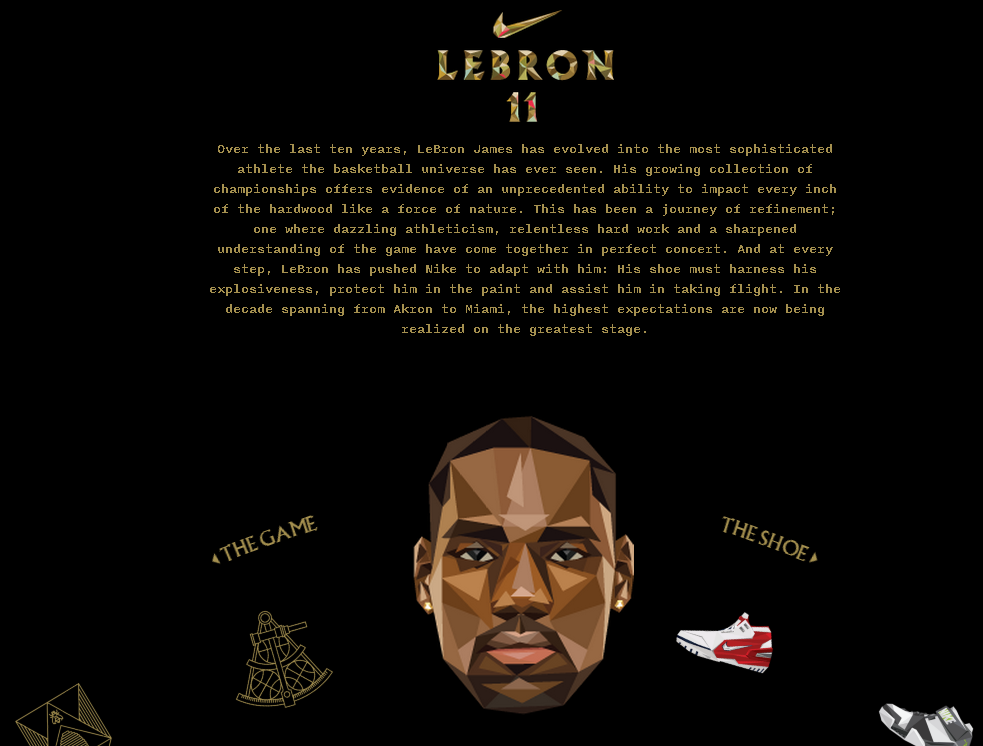 The site narrates the story of LeBron's rise in a laconic visual language. Visitors to the hub will find a wheel in the bottom of the page. By turning it, they can discover more about LeBron's Game with the focus on the sport achievements, with charts and statistics, and LeBron's Shoes with a detailed look at a story behind the shoe, its design and performance. The information is delivered in pop-up windows that emerge against the black or mustard layout. The portrait of LeBron and pictures of the shoes are made in the cubism visual manner, while the sports achievements are described in the medieval heraldic visual style.
The first shoe described is 2003's Nike Air Zoom Generation, which was created to mark LeBron's professional debut and so feature his team colors represented on the upper and the date (11-5-2003) stitched inside. The latest one is the LEBRON 11, which is the lightest and lowest LeBron shoe ever, powered by Nike Hyperposite technology for definitive lock-down.
"In 2013, LeBron James became only the second Nike Basketball athlete to have 11 signature shoes to his name," the brand states. "Fit for a king, LeBron's shoes have served as a showcase for some of Nike's most progressive innovations, including basketball-specific Air Max cushioning, the first full-length visible Nike Zoom unit, dynamic Flywire technology, Nike Hyperposite technology and much more."