Paco Rabanne has added a philantropic twist and a bit of manly sports passion to the launch of its new fragrance for men, Invictus. The fashion label is holding the Invictus Award reality show contest that features seven athletes from different countries, competing for a chance to receive funds for their charitable projects.
"7 athletes, 7 nationalities, 7 sports"—that's the essence of the project that started out in summer. Paco Rabanne together with some recognized experts selected seven candidates, representing various kinds of sports—from Argentina, Brazil, Germany, England, Spain, Italy, and France. The footage of the castings can be watched on the dedicated website or the YouTube page, along with the brief profiles of the athletes.
In the course of the show, the participants were facing various tough athletic challenges to win funding for their philanthropic projects—ranging from support of mentally deficient children in their hockey training to swimming lessons for hospitalized children. The better they performed, the more likely the online audience will vote for them. Of course, the participants' charisma and their project ideas also influence the public decision.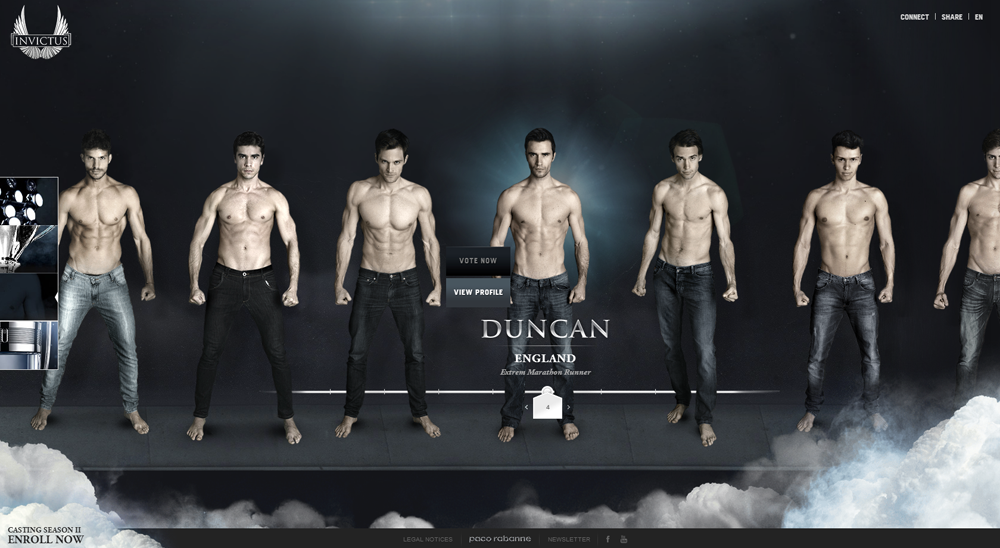 So far, the part with physical competitions is over, but the public voting is still open online through October 20. The final episode will unveil the winner on October 21. He will get a €50,000 grant to support his charity effort and will also become the face of the 2015 Invictus Calendar. International users who come and support the project through voting can win a prize as well—the Paco Rabanne Invictus perfume or a trip for two to Greece.
The brand has also announced a casting for the second season of the Invictus Award. The competition is open to male athletes from the 7 countries—the guys must be aged 18 and older. The entrants are to tell a bit about themselves, their sport and their project in a video application.