Campari is fusing geography and holidays for its 2014 calendar, fronted by Hollywood diva Uma Thurman and photographed by fashion photographer, Koto Bolofo. The 15th consecutive edition, "Worldwide Celebration," explores authentic traditions of 12 different countries through their 12 unique festivals.
While the previous edition of the calendar starring Penelope Cruz focused on superstitions and explored the darker, mystical side of cultures, the latest one is dedicated to their joyful and boisterous facet. The new calendar invites the consumers to embark on the round-the-world journey across the most spectacular and signature celebrations in China, Tanzania, the USA, Japan, Spain, England, Germany, Argentina, Italy, Mexico, Australia, and Brazil. The 2014's edition of the calendar opens up with Uma standing on a white staircase in a long red dress with a round train, featuring the globe's map "painted" with tiny crystals and sequins.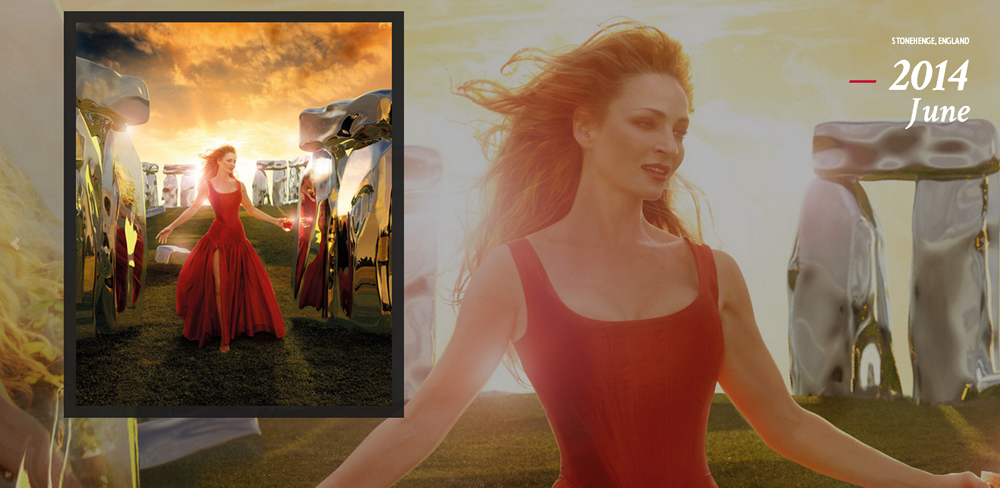 The month chapters don't feature the names and descriptions of the festivals, indicating just their location—the city and the country. Still, the holidays are famous and easy to guess. The recognizable festivals include the sakura matsuri (cherry blossom festival) in April; Midsummer's Eve in England that brings people together to celebrate the Summer Solstice at the historic Stonehenge in June; the Regata Storica (Historical Regatta), the most exciting gondola race, organized in Venice in September; and Día de Muertos (Day of the Dead) marked in Mexico's Aguascaliente (celebrated on November 1-2, but featured in the October page of the calendar) to name a few.
"It's 2014, and now more than ever the boundaries between local and global cultures have become less apparent. Nothing worthy of attention goes unnoticed, and this is particularly true when it comes to enjoying a celebration. Celebrate 2012 with Campari and enjoy 12 months discovering worldwide passions and style through the most intriguing festivities on the planet, spanning every latitude and culture," says the landing page of the digital version of the calendar.
For the project, Campari enlisted a photographer who embodies the merge of various ethnicities and is a true world citizen—Koto Bolofo was born in South Africa, raised in the U.K. and now is a French resident.
The new calendar may also come as a motivator for consumers to make the year of 2014 to be the 12-month period of travel across a dozen of the locations. Providing a sneak peek into the festive events, the edition is inspiring the Campari lovers to witness all the unique festival-focused manifestations of different cultures.