Electrolux is launching the 2014 installment of its international design competition, Electrolux Design Lab, aimed to find cutting-edge concepts for improving our homes. Tapping into the fast growing trend of making our living spaces greener and benefitting to our body and mind, Electrolux has announced that the theme of the next year's contest is "Creating Healthy Homes."
The competition, now running in its 12th year, is open for design students worldwide. They are to submit their entries in three major areas: Culinary Enjoyment, Fabric Care and Air Purification. The contestant can create a concept of a product, accessory, consumable or service—the entry is to include a description of their idea, a visual sketch to illustrate their idea, and also a brief description of consumer benefits it delivers. Electrolux also notes that the concepts should be created with Scandinavian design in mind—be environmentally-friendly, meaningful, intuitive and relevant.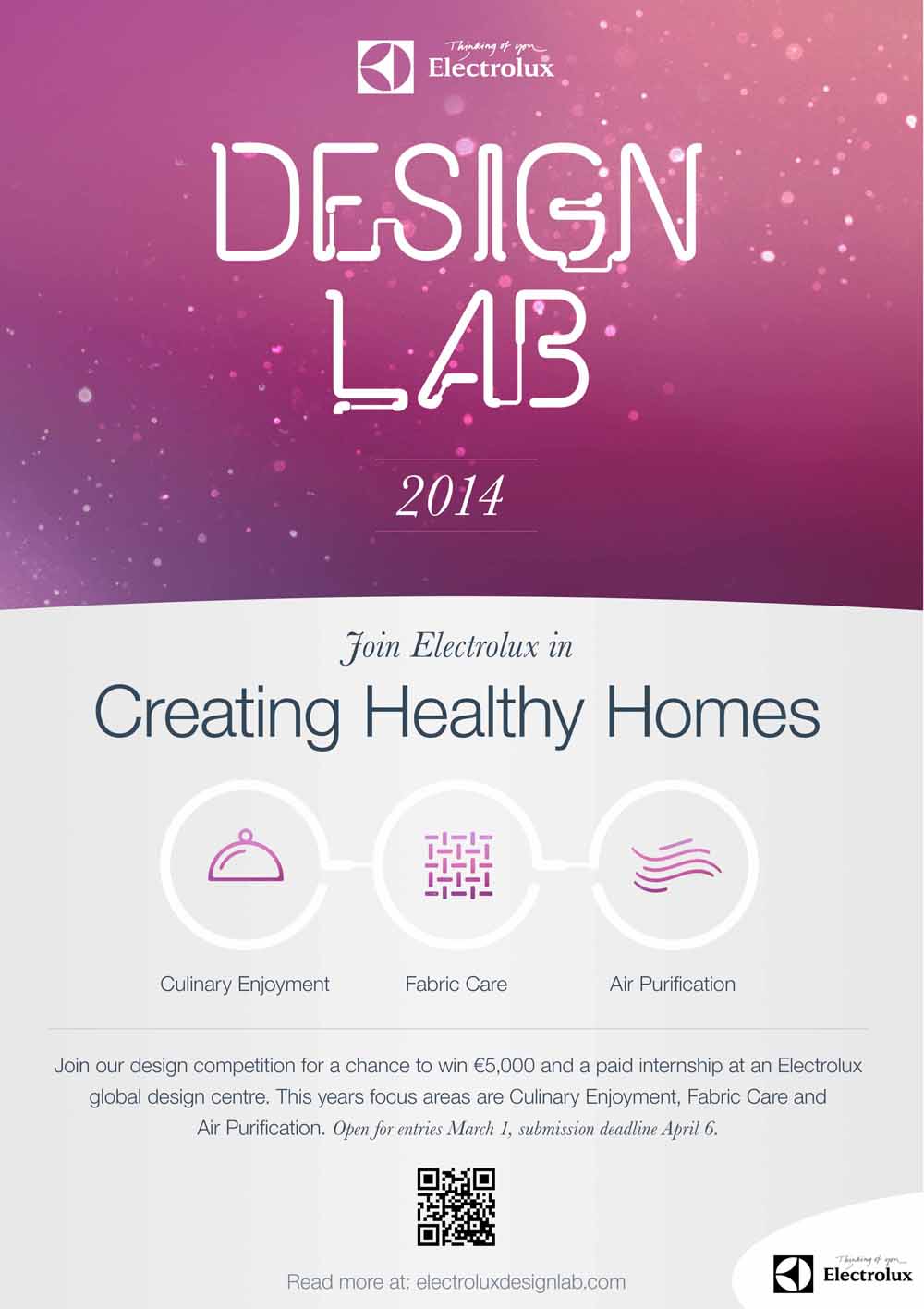 The brief, with detailed descriptions of what the brand is searching for in each of the categories, can be downloaded here. It also includes some statistics on Future of urbanization and Sustainability challenges. "In 2014 Electrolux Design Lab continues the expedition to the future visions of urban lifestyles. We draw inspiration from the desire to build a tomorrow that is sustainable and enjoyable as we focus on searching new ways of creating healthy lifestyles to our future homes," says the brief.
The application period starts on March 1 and closes on April 6. The most impressive submissions will be featured on the official site of the project and promoted via social media. The contestants will be developing their product ideas while the competition runs, share new content and write a development blog along with getting some feedback from experts during the selection process. The finalist and winners will be selected by the jury of recognized industry professionals. The overall winner will get a six-month paid internship at an Electrolux global design center plus €5,000. There'll  also be a second prize of €3,000, third prize of €2,000 and a public favorite prize of €1,000.
"Homes become more important as the challenges in the urban environment grow and as a result we want our homes to be the center of relaxation and peace of mind. Design Lab is one way for Electrolux to build an innovation culture. In 2014 we are looking forward to receiving creative ideas on the theme Creating Healthy Homes, to help shape the future of people's everyday lives into a positive direction and present propositions that envision healthy and sustainable lifestyles" explains Stefano Marzano, the Chief Design Officer of Electrolux.
The theme of this year's competition, which received 1,700+ submissions from 60+ countries, was "Inspired Urban Living." The winning work, Mab, was developed by Adrian Perez Zapata from Colombia. His concept is an automated cleaning system that includes a plethora of tiny flying robots that clean surfaces by removing the dust with a drop of water. See the winning design and the finalists' works here.