Heineken is collaborating with another creative collective as part of its ongoing #Heineken100 program to celebrate "Man of the World" from the brand's international marketing effort. This time, one of the world's leading brewers is teaming up with Japanese clothing brand NEIGHBORHOOD for a denim project that unites both brands' ethos and style.
Together, the beer brand and the apparel label have created the indigo denim, rigid narrow jeans. Just like all other products in the #Heineken range, the jeans feature finishings in the brand's signature green—it has got cross-stitching, a custom leather label (all in the recognizable Heineken color) and Heineken-printed label with personalized packaging.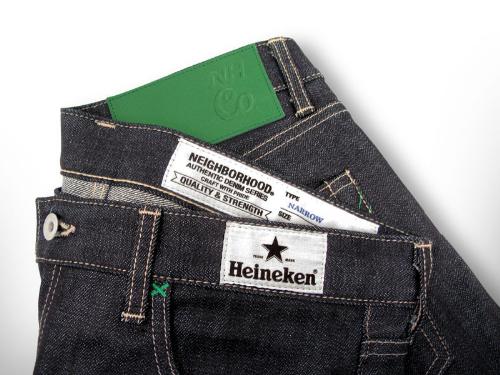 "When working with Heineken on the partnership for this year's program, NEIGHBORHOOD was one of the first brands that came to mind thanks to their signature denim collection," commented #Heineken100 Chris Gibbs, who became the creative director for the 2013 #Heineken100 program earlier this year. "Both Heineken and I wanted to expand the horizon of this year's products, and also work with a brand that had international reach but selective distribution."
Now in its fourth year, the #Heineken100 program continues to explore the brand's creative potential through design collaborations with recognized labels. The Heineken x NEIGHBORHOOD jeans are the third product released in 2013 under the creative supervision of Chris Gibbs. In October, the brand revealed a backpack created in a tie-up with KILLSPENCER, and in August it continued its partnership with designer Mark McNairy to develop two new shoes. The final #Heineken100 collaborative project with artist Eric Haze during the Art Basel Miami Beach fair will be presented in December 2013.
Results of the previous collaborations include a Public School camouflage duffle bag, Mark McNairy shoes, a Tsovet watch, Android Homme sneakers, and tote bags designed by fashion duo Dee & Ricky. The creations are not for sale on the market—they are exclusively available to the 100 individuals on the elite #Heineken100 list (the brand's doesn't officially share their names).