Patagonia is now enabling its consumers not only to wear sustainable apparel, but to drink organic beer as well. The 40-year old outdoor clothing brand, known for its eco-focused ethos, has partnered with the New Belgium Brewing company to craft a limited-edition organic lager, California Route. Patagonia has been deeply engaged in the development of the common-style 5.5% ABV beer that is the first drinkable product created by and in collaboration with an outdoor gear brand.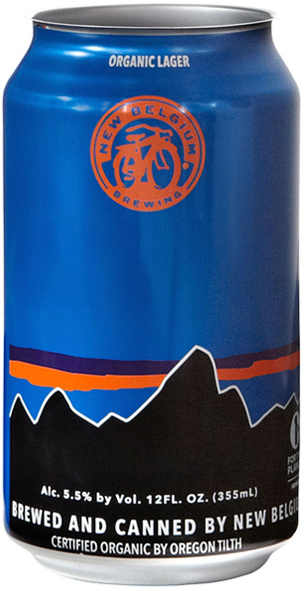 The refreshing lager is made using California lager yeast with subtle fruity esters and has the aroma of citrusy Cascade hops along with a heavy dose of hallertau, the hops grown in Germany. The lager's flavor also includes some hints of freshly baked bread, which adds to the complex aromatic picture of the product. It is "tawny in color, medium bodied, with a malty character and earthy hops," says the brand. The lager has been created in line with Patagonia's eco-focused philosophy—it's brewed with certified organic ingredients.
In the press note, Patagonia says that the new beer "is canned for adventure." The name of the product pays homage to the California Route on Mount Fitz Roy featured in Patagonia's logo. The brand's symbol is also "stretched" to cover the 12-ounce aluminum can—it features the traditional blue, black, white, and orange colors. The design also incorporates the orange New Belgium Brewing logo on the front.
The lager will be available in mid-November in the U.S. only. The stores selling the California Route beer can be found using the New Belgium Libation Location tool. New Belgium Brewing company is now the first brewery to join the 1% For The Planet philanthropy network, co-started by Patagonia.
"New Belgium has long admired Patagonia and it is an honor they thought of us for this collaboration," commented Bryan Simpson, New Belgium's media relations director. "We've exchanged ideas and best practices over the years and most recently collaborated on the Save the Colorado campaign. Having an organic beer to celebrate four decades of Patagonia's good work is very gratifying."