The apparel, footwear & accessories brand TOMS, known for its "One for One" charitable scheme, launches a new online store that sells not only the label's own products, but goods from other ethical companies as well. With TOMS Marketplace running on toms.com, the brand drives its philanthropic commitment further by lending its platform to more social entrepreneurs.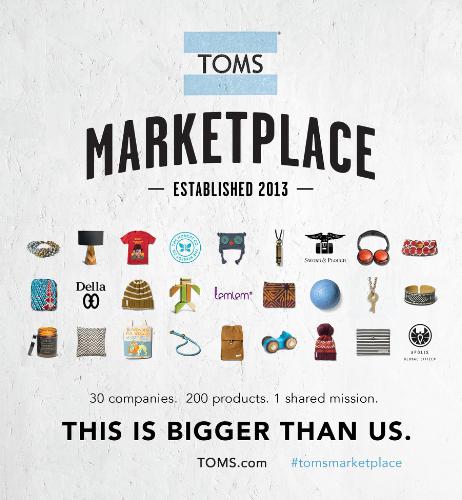 All the 30 companies partnering with TOMS—Movember, charity: water, Falling Whistles are amongst them—share the same social ethos that focuses on supporting people in need across the globe.
At the moment, the Marketplace is available for the U.S. shoppers only, and offers a collection of +200 items such as bikes, lamps, cufflinks and all sorts of bags. The prices range from $5 to $500—for instance, the Nicole Weekender by JADEtribe is available at $418, while the Paisley Stocking by JOYN costs $27.
Products can be searched by brands, by regions or by cause—Children, Education, Health, Job Creation, Nutrition, and Water. There's also a Gifts Finder section where shoppers can search for gifts—for Him, Her, Kids, and Home. Each product's page provides additional information on the background of the company, its founders, philosophy and areas of positive influence.
"The TOMS Marketplace represents something that is bigger than us," commented Blake Mycoskie, Founder and Chief Shoe Giver of TOMS, in the press note. "We believe social entrepreneurship is a movement that is here to stay, and the TOMS Marketplace is our way of bringing awareness to so many amazing companies, causes and products. For the past few years, I have been humbled by the number of social entrepreneurs who have been inspired by the TOMS business model. In fact, it wasn't too long ago that I found myself in a similar position. So I thought, 'What can we do to help support these companies?' The TOMS Marketplace is the result."