The French jewelry label Van Cleef & Arpels adds an audio dimension to its museum exhibition "A Quest for Beauty: The Art of Van Cleef & Arpels," now open at the Bowers Museum in Santa Ana, CA. The brand has released an iPhone and Android app, "A Quest for Beauty," as a curated tour that allows to browse through 31 from over 200 items on display—to enhance the experience, the designs' descriptions are delivered in an audio format.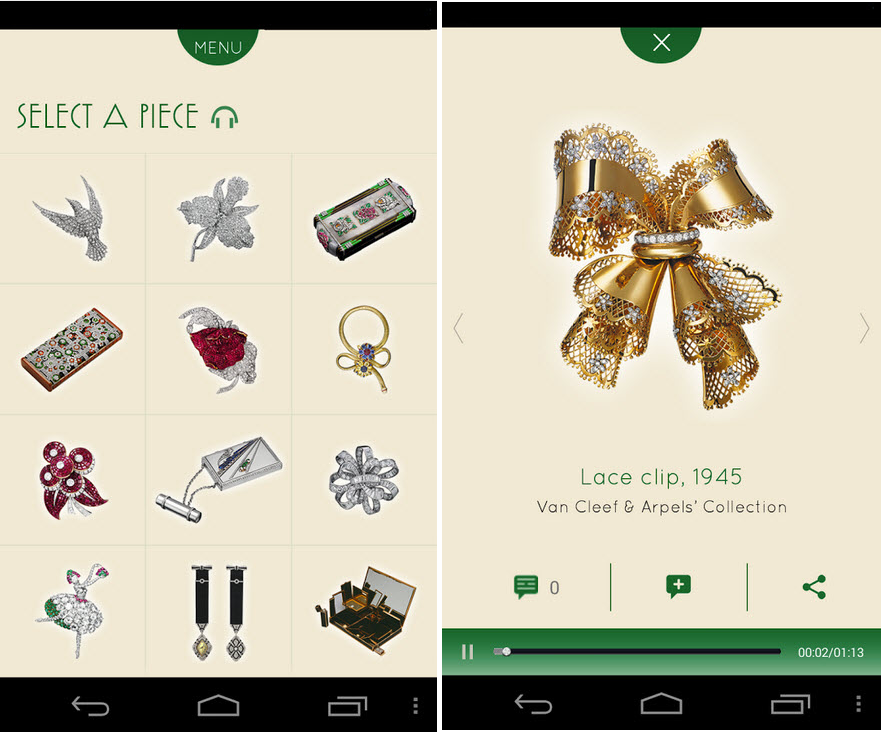 The app is an alternative to visiting the event in person—users can learn more about 31 items from the archive collection in the physical exhibition. One is invited to select a piece, ranging from brooches and earrings to necklaces and tiaras, and listed to a description of the jewelry creation. The stories of each of the item (all in English) include basic information as well as inspirations behind the piece and anecdotes related to it. Users are also invited to share their thoughts and comments in the Exhibition Guest Book, just like at a physical museum.
The real-life collection at the Bowers Museum includes over two hundred items ranging from fine jewelry, accessories, watches, sketches and documents, falling into four sections: "Nature," "Elegance," "Exoticisim" and "Feminitnity." Visitors to the exhibit, open from October 27 to February 15, are invited to delve into 100+ years history of the Van Cleef & Arpels exquisite jewelry Maison in Paris. The sections explore the craftsmanship of the brand and also highlight the label's connections with iconic female influencers including Duchess of Windsor, Grace Kelly and Elizabeth Taylor who adored and wore the Maison's creations.