Audi has got something interesting for the little would-be drivers. The German automobile manufacturer has released a children's storybook that illustrates rich history of the company. The 28-page novel titled "It Couldn't Be Done: An Audi Story" was designed by Ty Mattson of studio Mattson Creative, who worked on it side-by-side with the advertising agency Venables Bell & Partners.
The colour palette of the publication pays tribute to the signature visual language of the brand—it uses shades of black, white and bold red. The narration is not just a collection of facts—it is a poem originally written by Edgar Guest in 1916. The verses and illustrations of the novel resemble the lighthearted style of the famous American children's books author and poet Dr. Seuss.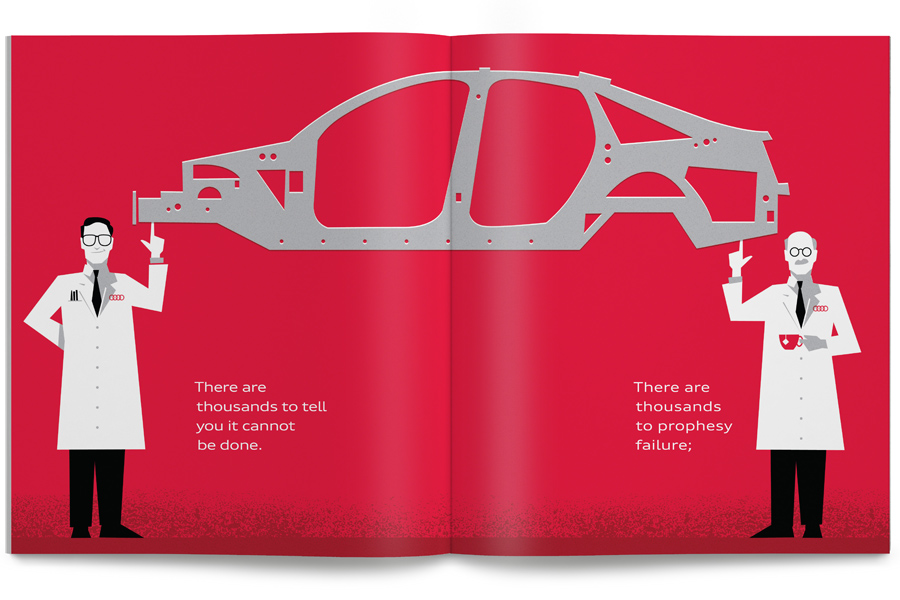 Even though it was created nearly a century ago, the poem applies perfectly to Audi's philosophy. It communicates the passion for invention and proves that nothing can be impossible. The storybook is created for the company employees and their kids, to remind that we all should dream big to achieve much, and never be afraid of creating something completely new and crazy, no matter what others say.
The book follows the launch of  "It Couldn't Be Done" commercial in May 2013.