In the year of 2013, the world has been tackling the usual societal challenges with refreshed passion, fueled by cutting-edge technology and deeper insight into the areas of interest. The 6 trends highlighted in the overview below have been flourishing within the social area for the past 12 months and most likely will develop into even more powerful tendencies next year. Each of the featured trends is explained through a number of sub-trends illustrated with examples.
1.  Slacktivism evolving into activism    
Philanthropy is now about actions, not just words of support. You are expected to share your life (in money, actions, time) to prove tangible help to those in need, deeds can't be substituted by words. Non-profits are reaching audiences with stronger messages, giving them evidence of how their donations work.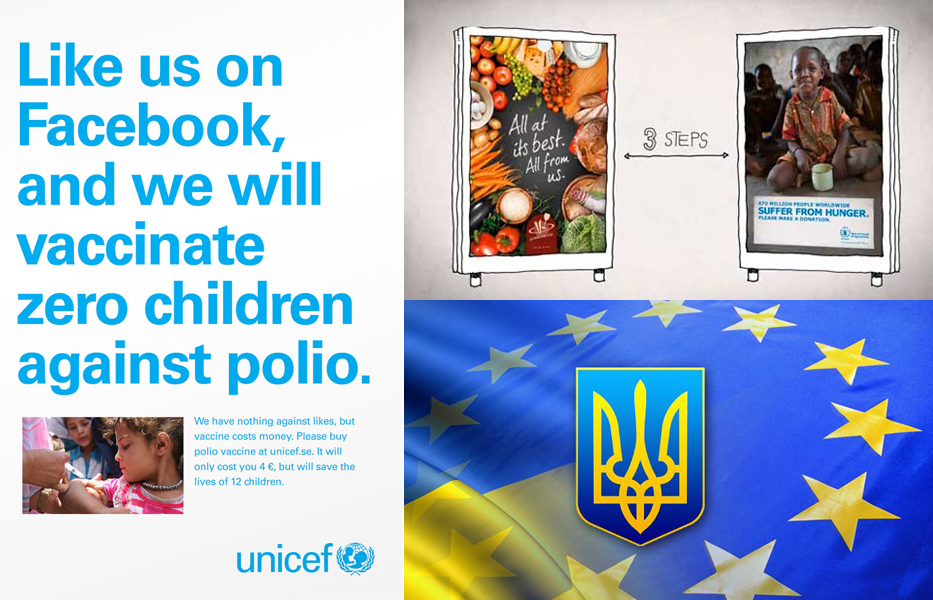 "Likes don't save lives." The powerful campaign from UNICEF Sweden reached millions of people worldwide with a documentary-like video starring a Palestinian boy and a series of vignettes illustrating the fact that you can't pay for essentials with a mere virtual approval. This tagline epitomized the development of online activism this year, inspiring many to go and share their time, money and power for a good cause.
Gamification of charity actions. Two NFC-powered Food Links billboards at one bus stop inspired cross-continental donations—people grabbed virtual food from one poster with their smartphones and "carried" it to hungry kids from Africa in the other poster. People were encouraged to donate actual value of the food they've selected—they received a video postcard featuring the child who got food thanks to their donation. Participants of the Invictus Paco Rabanne Awards, seven sportsmen, showed off their physical strength to generate more voices for their good cause for a chance to receive a good cause. Give Your Calories also allows to "donate" calorie-packed snacks to fight deadly hunger (at the expense of the patron organization Action Against Hunger).
Online action influencing physical events.  Social media already have an established image of a powerful and massive tool that can play its important role in how the events in the real space unfold. The agenda can range from sharing crucial data for supporting people during natural disasters to mobilizing forces in revolutions, the goal is the same—to reach as many people as possible through posts and shares and engage them into the process. For instance, to help find people guilty of Boston terroristic attack earlier this year, the findbostonbombers hub was created on Reddit as a discussion forum, and Google launched the Global Human Trafficking Hotline Network to help find missing people trapped in modern-day slavery. The recent social/political Euromaidan protests in Ukraine also demonstrated the power of social media—the quick video and photo documentary updates, calls to action, maps of help centers and more were posted to dedicated communities and the footage from the streets was live-streamed most of the day on independent news platforms.
What to expect: The online activity is rapidly evolving from low-calorie philanthropy (when consumers use brands' financial assets to "donate" to causes) to tangible help that triggers personal real-life contributions. These can be done through globally popular multi-discipline platforms like Indiegogo and Kickstarter or other social good oriented sites like StartSomethingGood, Crowdrise, Razoo, Causes and Catapult to name a few. Gamification might be a nice way of taking the habit of donating to broader masses. Establishing realistic personal connection with the person to receive the donation also adds to development of conscious activism.
2.  A new take on civil equality and freedom
Today's society is diverse. Still, in some countries tolerance towards people with unconventional lifestyles, appearances, visions, etc. is still a dream. In 2013, the voice of LGTB organizations, refugees and civil rights NGOs and feminist groups became even stronger.

Active response to anti-gay laws, from across the border. The Stockholm Pride parade launched the GoWest2013 campaign to invite Russians to the event by sending a tweet that was automatically translated into Russian. Google+ Hangouts enabled homosexual couples to register their marriage in the countries that allow it by connecting the couple and the official over the internet.
Boosting human and civil rights protection using wearable technology. Natalia Project introduced a revolutionary bracelet for human rights defenders at risk. The on-wrist GPS and social media-powered device sends alarms in case of kidnapping, so that other members of the organizations could immediately know about the act of violence and react to it. In Sweden, progressive organization Crossing borders empowered youth to speak out their politician opinions using a LED-activated Tweet Dress during Sweden's Almedalen Week. Young activists wore a dress with an illuminating dress-on signs that streamed public comments on topic ranging from gender equality to affordable homes for young people at the event that gathered politicians, PR workers and celebrities.
Freedom of speech and privacy. In late October, Google introduced a set of tools aimed to make internet connection secure and private for users, media sites, platforms of elections and human rights organizations be more protected from DDoS attacks.
What to expect: 2014 will definitely see the boost of devices that allow to inform on violations of human rights immediately, the rise of wearable computing will allow to make such devices as ubiquitous as mobile phones or watches. Social media and digital tool will continue to help crush boarders between countries, despite all the political regimes, and communicate original, not abridged messages.
3.  Homeless life gets brighter
Natural disasters, runaway from countries with anti-human political regimes, personal tragedies—all of this potentially can people leave their homes for ever and go vagabond. During the past twelve month the world has seen different acts of kindness aimed to support people who turned into tramps.
Feeding homeless and helping people out of homelessness. Give-away meal for the homeless is yesterday. Earlier this year, Starbucks encouraged its British consumers to buy a suspended coffee for people who live in the streets—so far, the coffee giant is the only global brand to launch such an initiative, but more of them may be coming soon. Following the SPEND simulator, non-profit homeless shelter and kitchen Urban Ministries of Durham (UMD) and the McKinney agency released a new game, Names for Change, that allows to buy "naming rights" for things that connect people—from refrigerators to beans. The money generated through the effort was to be used to help people to return to normal lives.
A fresh look at homes for homeless. The Depaul Box Company, launched by charity organization Depaul UK and Publics London, produces cardboard boxes with a social purpose—providing temporary homes for people who don't have brick-and-mortar dwellings. The joint venture encourages people who are moving houses to buy the boxes to support homeless. All the profits generated by the company are used to help young homeless people move off the street. In Sweden, interactive agency Forsman and Bodenfors launched an initiative that invited extreme lifestyles fans to "book a night" at the faux Faktum hotel offering to spend a night at one of 10 Gothenburg locations in the open air where the tramps of the city usually sleep. They could either spend the night or give the night stay to a friend as a gift—or just make a donation to benefit the cause. Foldable and back-pack shelters were also introduced this year as a response to the homelessness issue.
Giving homeless a cleaner, healthier image. The SF-based project called Lava Mae will use old buses as on-wheel showers for people living in the streets. Starting March 2014, the travelling shower stalls will be "delivering dignity" in form of bathing, hygiene necessities such as towels and toiletries, to people who live in the streets.
What to expect: The homeless people will be granted an opportunity to savour the taste of normal life. They are likely to be empowered with technology and get an access to social media via travelling stations and workshops. They may get a chance how to code, create their own apps (apparently, to simplify the life of their peers) and join dedicated networks.      
4. Female image re-structured
For the past century, women have been fighting for equal rights with men across the globe. This ongoing struggle is focusing both on career opportunities and the way women are treated in society, their in-family lives, beauty standards, lifestyle choices and many more.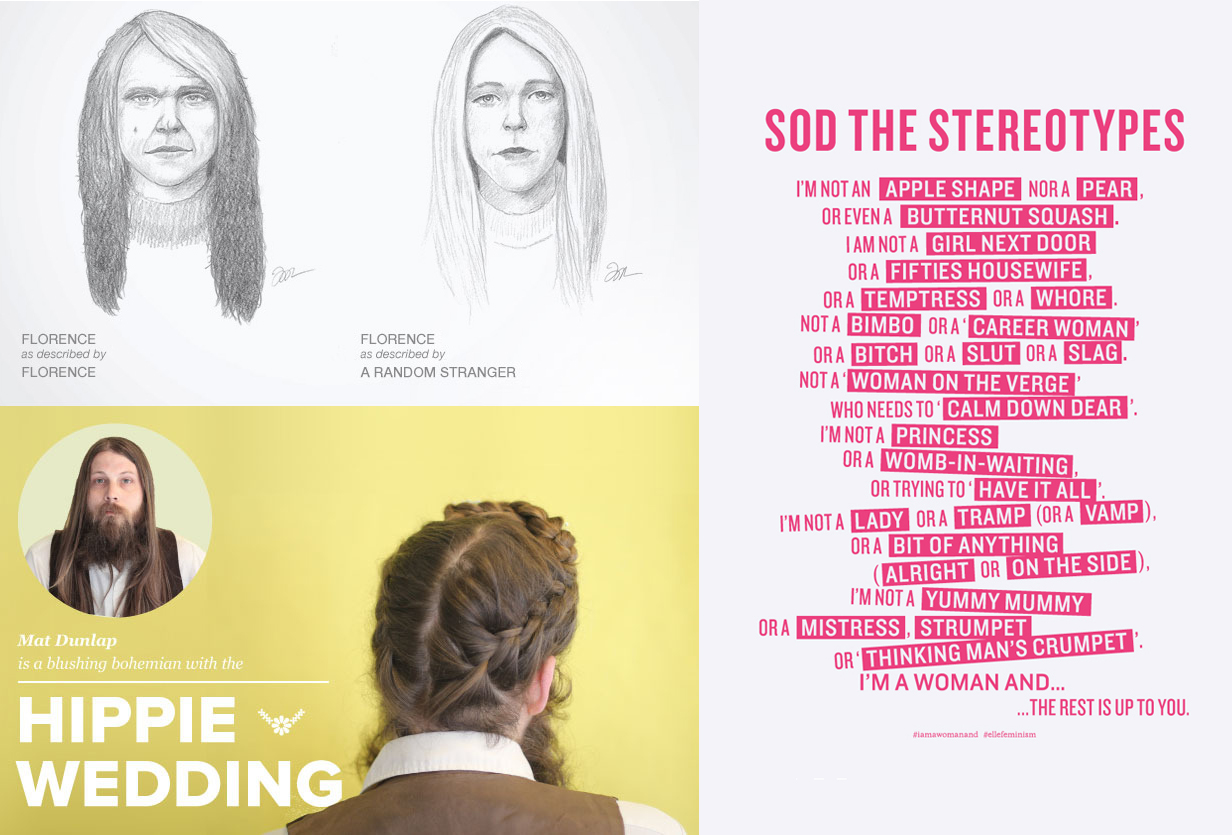 She looks better than she thinks. Dove launched a powerful Beauty Sketches project that showed the dramatic difference between how a woman describes herself and how she is described by others. Vogue UK launched a campaign to teach young girls that the beauty of models in the magazine is a result of long team work of versatile specialists. The effort aims to nurture a reasonable, healthy attitude towards fashion beauty that should not inspire role models.
Funification of gender habits and styles. The #Mamming campaign created a new meme to inspire women to get a mammogram. To make this procedure a little less awkward for them, women were invited to get emotionally ready by "mamming" (putting their bust against various surfaces), taking a photo of this pose and sharing it over the Internet. Photographer Jessica Saia launched a project, captured men with fancy lady hair—all to show how thin the boarders between gender roles are.
Feminism rebranded. In fall, three agencies launched an effort for ELLE aimed to inspire a new attitude towards women in the modern society. The assets of the campaign ranged from the fill-in statements to visuals, all designed to help women claim their civil rights. The project inspired Mother London, one of the three agencies, to launch their own photo "Project Bush" initiative to showcase a variety of lady bushes—women in London were invited to pose anonymously in the photo session. In early 2013, U by Kotex launched a campaign in the USA encouraging female to explore vaginal truths. 

What to expect: Women is a growing power across the globe, even in the societies where female voice is much less counted. Nearly 1 billion women will enter workplace around the world by 2022, and brands will surely tap into this trend by hiring more female professionals.

5. Sharing economy
An economical movement inspired by the philosophy of getting more by using less and/or collectively has gained its momentum in 2013. In its multiple forms, from sharing meals and skills for minimum fee to trading in goods, shared economy can become the ruling power of tomorrow in a world oversaturated with the philosophy of consumerism.
Alternative currency. Traditionally, skills are traded for money to buy some goods or services. Alternative currency—creativity, for instance—can be used to get the required product. For instance, as part of a PR effort a Sydney coffee-shop encouraged its consumers to kiss as a payment for a coffee. MINI invited its fans to share their ideas on what they would do to own a MINI. The mPOwering Action organization inspired meaningful creativity by offering the global audience to share their story, through pictures and text, about the global issues that matter most to you. The contributors were rewarded with free music and content from their favorite artists, athletes and celebrities from around the world for each story they shared. The Abu Ghosh restaurant Jerusalem is now rewarding its diners a 50 percent discount for turning off their smart devices.

What to expect: Sharing economy will be definitely winning in the coming years if such platforms find new reliable ways to ensure safe transactions and transparency between participants. People might want to share, but they will never agree to be robbed by the guests who share a meal or flat with them, swop things for flawed ones, etc. The world needs more effective tools to keep a healthy balance between openness and privacy to enable trustful experience.
 6. Adaptive enhanced learning
Accessible knowledge is one of the musts of global equality and prosperity. Charitable organizations and some business companies are delivering skills and information to a broader audience, especially in deprived communities, all to empower people to change their lives themselves. The rise of free and paid MOOCs (massive online open courses), skill-share communities, Skype-powered classes marks a new era of learning, where and when you need it.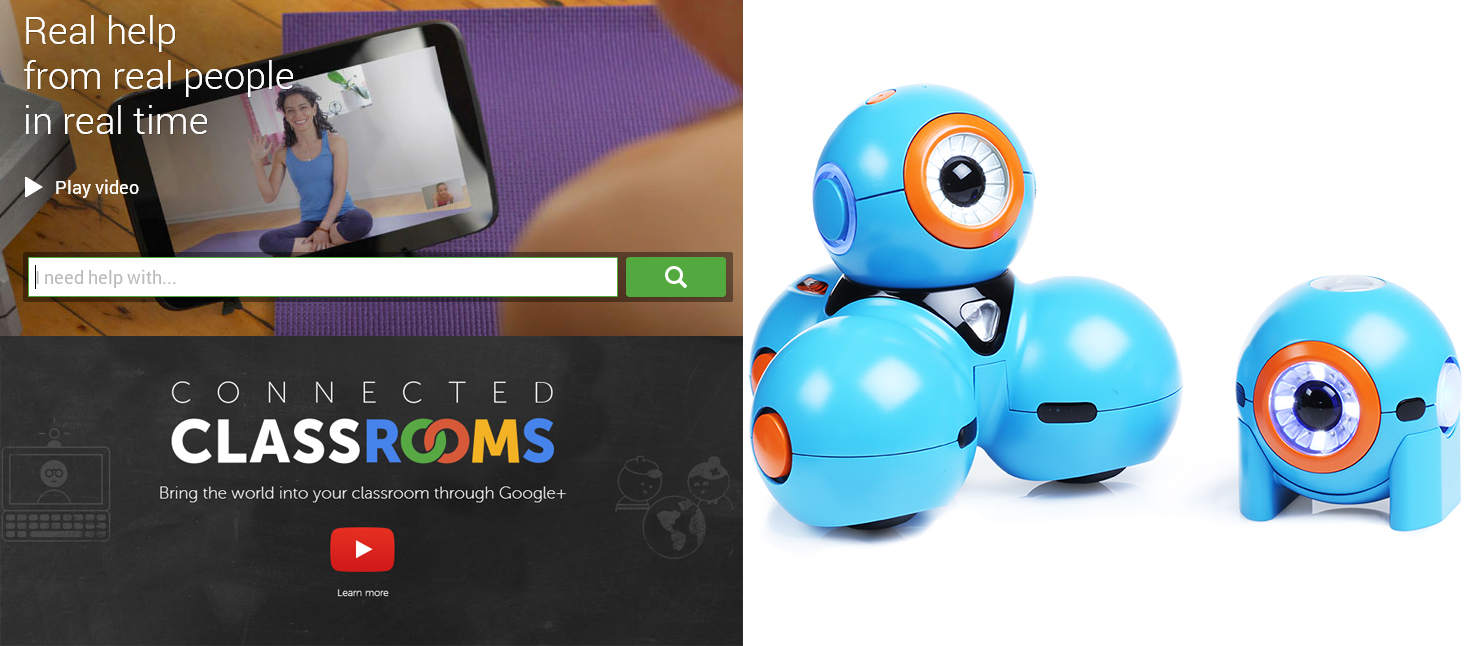 The smallest, personalized portion of knowledge for a better effect. The Curious platform posts micro lessons on DIY skills (in a yet more digestable way that globally known SkillShare). The recently launched Google's platform Helpouts also provides short personalized video guides that connect a person who needs some skill or advice with a person who can provide it.
Virtual knowledge assets, on fingertips. MTN and South African Agency Metropolitan Republic developed a project that allowed school children in Uganda to type in a book's unique code and, via USSD (a simple cell phone technology available on mobile phones) anyone could download a free copy of the book. Google is allowing to embark on free virtual field-trips in Connected Classrooms using Google+ Hangouts.
Young Einsteins. Little kids can learn coding as successfully as older ones. Play-i created two robots, Bo and Yana linked with an iPad app that can be used to explain programming concepts to children as young as 5 years old.
What to expect: Tech companies will be working hard to develop new ways to deliver information in the best possible bite-sized format. Learning should be made an experience available in all formats through all kinds of tools and media, from wearable technologies to social media.
The year of 2013 was shaped by a range of factors and trends that, in their turn, were made possible by the rise of communication and wearable technology as well as liberation in all spheres of life. The most game-changing trends of the past 12 months that will continue into 2014 are sharing economy (peer-to-peer exchange of goods, time, skills, etc.), adapted learning and factual equality, regardless of sexual orientation, beliefs, income, political views, etc. 
About the Author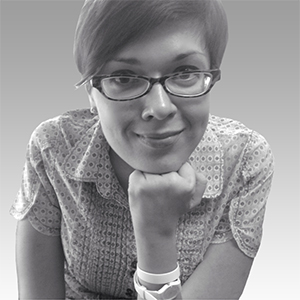 Anna Rudenko is News Editor and Features Writer at Popsop, where she covers philanthropy, future technology and the environmental pulse of the globe. She is an art films aficionado, crafter, avid vegetarian, and sustainability enthusiast who does her best to bring positive change into the world around.