As wearable technology further integrates into fashion, Intel is also tapping into smart clothing &apparel trend with its latest partnership with Barneys New York, the Council of Fashion Designers of America and Opening Ceremony. The tech powerhouse is teaming up with these representatives of the fashion world in a series of upcoming strategic collaborations.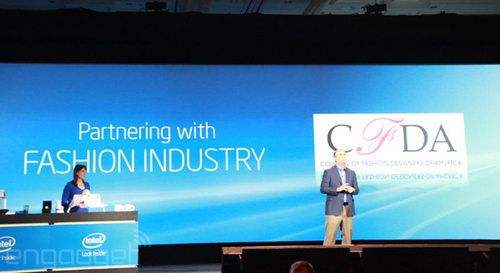 The project aims to add a fashionable twist to wearable tech pieces, introduce more gadgets of this kind to the apparel and accessories products, and also inspire cooperation between the fashion and technology fields. One of the first tangible results of this tie-up will be a special smart bracelet, developed by Intel (tech part) and Opening Ceremony (design guidance), to be sold at Barneys, "the mecca for discerning fashionistas," says the press release. The brands haven't shared any details on what the upcoming concept product will look like, its price or the launch date yet.
"The collaborations we announced today are indicative of Intel's collective and conscious approach to the wearable market," noted Ayse Ildeniz, vice president, Business Development and Strategy of Intel's New Devices Group. "Through these initiatives we will combine Intel's leading technologies with Opening Ceremony's design prowess, Barneys New York's track record to identify the next consumer trends, and CFDA's commitment to advance innovation within the fashion industry. Our shared vision is to accelerate wearable technology innovation and create products that both enhance peoples' lives and are desirable to wear."
Intel's collaboration with CFDA will include a foundation of a professional community that will invite technology developers and fashion designers. The members of this group will be encouraged to network, nourish and exchange their ideas on how to develop the wearable technology. This collaboration will allow 400+ leading fashion designers who are members of CFDA to share their ideas with and seek tech support from hardware and software developers.