After taking a deep breath after the Christmas frenzy, we're to get ready to another big holiday as St. Valentine's Day is just around the corner. To add more fun to the process of choosing the right gift for the loved ones, Tiffany & Co. has launched a dedicated Facebook app, "Love, Tiffany," that features a range of jewelry pieces along with a heartwarming animation and wise words.
Tiffany's jewelry, especially its diamond rings, have long been synonymous with love-related special occasions, marriage proposals in particular. Building on this long-standing tradition, the jeweler has developed a gift guide that is a true manifestation of love—24 shareable tiles on a wall in the red and the brand's signature tortoise palette.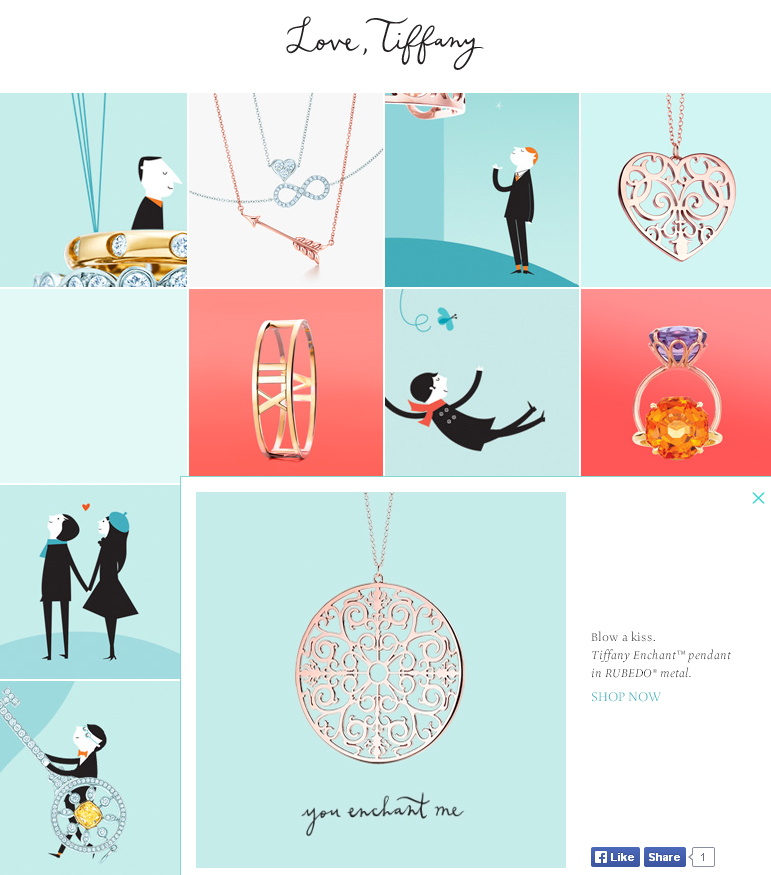 The red tiles feature the product, and the tortoise ones turn into marvelous pop-up animation vignettes on a click, unveiling the jewelry pieces in the end of the mini-story of love. The micro stotyline syncs with a love-inspired saying that goes along with the animated piece. For instance, the scene where the two are sitting in a rowboat is accompanied with the "Let's make waves together" phrase, and the one with the astronaut goes together with the "I'm over the moon for you" statement.
Both the individual products and the whole ranges integrated into the vignettes go along with links to the official website of the jeweler. The tiles can be liked and shared, so the gift guide can also serve as a wish-list for Facebook users.