Adobe and the digital agency Razorfish have partnered to provide maximum comfort to the attendees to the annual music, film and interactive festival SXSW in Austin on March 7-16. Together they've created the accommodation- and bike-sharing project #UseMeLeaveMe. The initiative is an extension of Razorfish's last year's effort to address the lack of convenient transportation with the Tweeting Bikes, a City of Austin Bicycle program.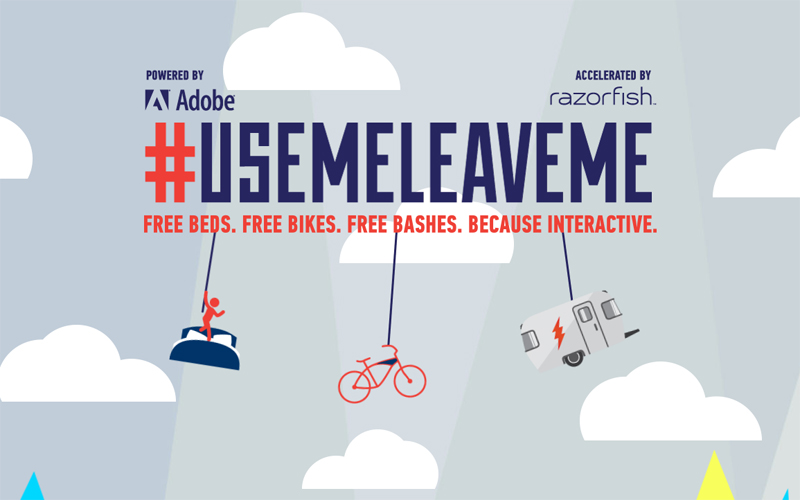 The UseMeLeaveMe includes the free biking program and the Buds for Beds contest. The festival attendees will be able to "beat the traffic" riding the bikes that have different personalities, male and female—these town bikes with embedded GPS are able to "post" various things to Twitter, whatever is on their mind. Each bikes has its own ID and can tell their location.
Any person who is planning to come to SXSW can win a house accommodation for him/her and 5 team mates for 5 days by telling why they are "the deservingest of the deserving." They can share their stories right on the website, providing brief info about the team and their photos. The more votes the entry gets, the better. The top entries will become finalists, and the jury will then select the best one. The contest runs from February 11-21.
The microsite also highlights its future Digital Playground trailers at SXSW, based on the best algorithm of merging the tech, music and drinks components.
The idea of providing free temporal accommodation and means of transportations is based on the fact that every year, Austin, Texas hosts around 200,000 people coming from 80 countries for SXSW. While free concerts and drinks are abundant, convenient transportation and housing is a hot issue.