The Coca-Cola Company is rolling out "The World's Cup", the largest marketing campaign in its 128-year history, ahead of the upcoming FIFA World Cup. The marketing platform will include a range of elements such as "Where Will Happiness Strike Next" documentary-style short videos, The Happiness Flag photomosaic that will highlight fan faces and messages, FIFA World Cup Trophy Tour, and many more. 
The video part of the promotion will include the "One World, One Game" television and digital film by Wieden + Kennedy Sao Paulo that will narrate the stories of four football teams from four different parts of the globe—the emotional video focuses on the challenges and victories they faced in the world of football. It will communicate the happiness the teams from Japan, Eastern Europe, the Amazon, and Palestine have experienced thanks to football. There will also be a series of poignant "Where Will Happiness Strike Next" episodes starring passionate football fans that will be filmed during stops along the FIFA World CupTrophy Tour, spanning more than 92,000 miles across 90 countries.
Just for the occasion, Coca-Cola reveals its "The World Is Ours" official music anthem created just for the Coca-Cola 2014 FIFA World Cup effort. The track was recorded with local contributions from the Brazilian-born singer David Correy and Monobloco, a Brazilian street band. The track also features voices and sounds of local artists from around the globe, so that the song is truly universal.
The brand is also inviting its fans from all across the globe to send in photos and tweets for a chance to see them featured on The Happiness Flag, the largest flag mosaic ever created. Powered by various cultures and beliefs united under the banner of international sport, these photos and messages will form a giant flag that will be revealed on-pitch ahead of the Opening Match of the 2014 FIFA World Cup in Sao Paulo on June 12.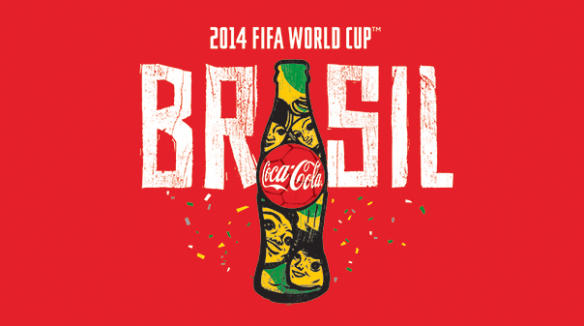 The campaign will also use a flamboyant visual identity, developed in collaboration with Brazilian street artist Speto just in style with the Brazilian visual traditions and their positive philosophy. It will be featured across all brand communication elements before and during the event, communicating "happiness, togetherness and celebration."