Rip Curl Pro Store Poland helps the visually impaired "see" the color of the new apparel collection
Warsaw-based Rip Curl Pro Store of sportive apparel has teamed up with Havas Worldwide Warsaw to enable visually impaired customers to see the color of their latest collection, which is all built around the vibrant shades. As part of the Color is for Everybody effort, the name of the color was printed in the Braille alphabet onto a special tag so that people, who can't see, could read it with their fingers.
The tags are not just cardboard pieces—they are made of fabric that can be sewn onto the purchased piece of apparel to help the visually impaired manage their clothing at home easily. The tags feature both the dots and the letters, so it works both for people with normal sight or consumers who are not able to see at all.
The promotional video showcases the flamboyant collection and demonstrates how visually impaired people can integrate with it just like others. The spot features Paweł Urbański, the first Polish visually impaired person to climb Kilimanjaro. He tells that sometimes it might be easier to climb the mountain than to choose (read "guess") the color of the shirt.
This simple tweak to the collection's pieces is a huge shift in providing comfort and independence to the people who are visually handicapped. Maybe, it might even start a revolution in the apparel market if other brands take it up.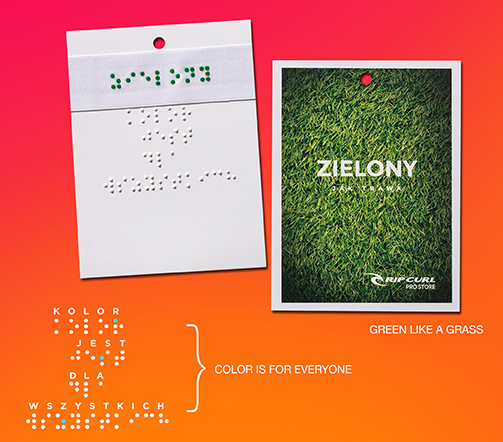 Photo: Visual of the Color is for Everybody campaign www.creativereview.co.uk