Coca-Cola is extending its sustainable efforts from dedicated campaigns to a new brand centered around the cause, Ice Dew "Chun Yue," or Pure Joy in China. The money collected through the sales of the product will fund projects focused around providing safe drinkable water to schoolchildren in rural regions of China. It's the first-ever product of this kind for Coca-Cola not in China only, but also across the globe.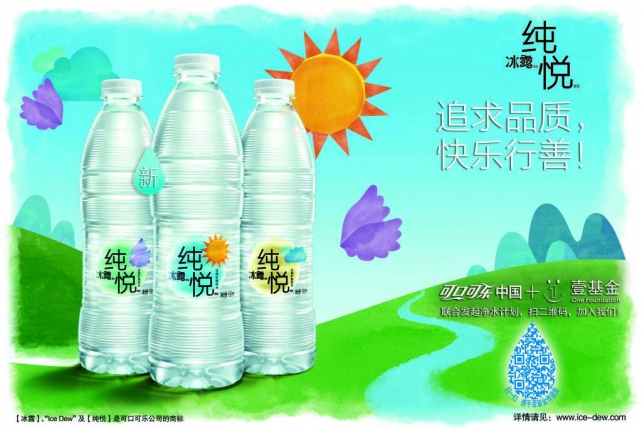 As part of this endeavour, Coke teams up with local NGO One Foundation, encouraging consumers to "Drink good, Do good, Feel good." The proceeds will be used for buying water-cleaning facilities in less privileged areas of the country, addressing an issue of high levels of water pollution on a national scale. Because of the contaminated water issues, safe bottled water becomes one of the essentials for people in China.
The Chun Yue bottles will be sold at 32 U.S. cent, which is slightly more than a similar product in the market. The water brand has been already launched in 12 provinces and will roll out nationwide soon. The new product comes as an extension of the Ice Dew water label that had a 6% share, being No.5, on the national market in 2013, Euromonitor reported.
The product, aimed at younger generations, responds to the youth's growing commitment to be the ruling power in resolving the ecological and social issues. To engage more young consumers, the brand will also launch a wearable tech element in the coming month, says Ad Age. To highlight the sustainable character of the water brand, the Ice Dew "Chun Yue" bottles, developed by design firm Ideo, feature three different visual elements—a purple butterfly, a blue cloud and a yellow sun.
Coca-Cola has also rolled out advertising campaign by BBH China (the TV spot) and Amber Communications (the digital component).
The Chinese youth is "proud of being part of solving social issues—they may not be very active, maybe not going out and planting trees and hugging trees and those kinds of things, but they see pollution and other issues and immediately chat about them on Weibo," commented Pratik Thakar, Coca-Cola Asia Pacific Creative & Content Excellence.