McDonald's has rolled out specially designed French fry packaging for the first time it its history, in celebration of the forthcoming FIFA World Cup. The new packaging features stunning artwork by an international pool of 12 artists—each of them created an original street art visual for one of the packs. Additionally, the mini-buckets feature a key to opening a specially created AR app for further engagement with the brand's fans.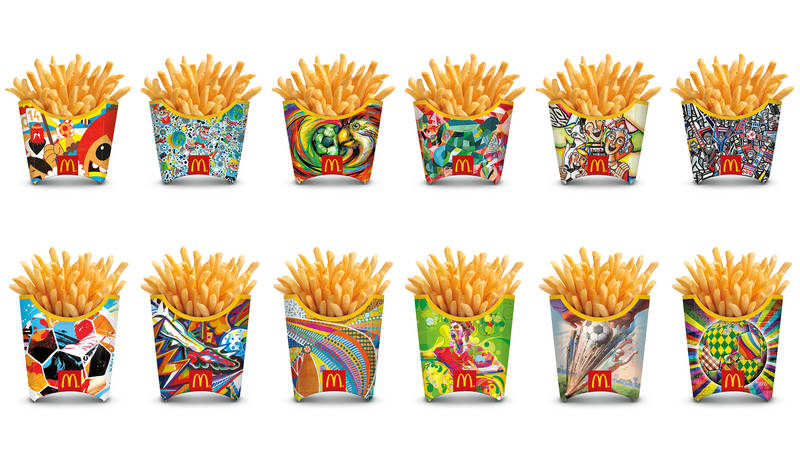 The designs created by the artists from across the globe (Australia, Canada, Japan, Germany, Russia, USA, England, and more) will be covering McDonald's Medium and Large fry boxes, available in most restaurants of the chain globally throughout the course of the 2014 FIFA World Cup while supplies last. Each of the visuals has its own name, revealing the vibe of the football experience. For instance, Doppel's (Japan) artwork is titled "Kick the One," the name of Skwak's (France) piece is "The Maniac Football Party," and Martin Satí's (Spain) piece goes as "Flamenco Number One."
Along with marveling at the flamboyant original designs, consumers can also go further by downloading the "McDonald's GOL!" app for iOS and Android devices. The download will be triggered by the French fry box itself—a consumer's smartphone recognizes the artwork when pointed at the front part of the box, and the game starts. The bag comes as the goal and the built-in objects on the screen act as obstacles. Users are encouraged to "kick" the ball into the goal, avoiding obstacles. Simple, but engaging.
"This is the first time in brand history we're changing the packaging design of one of our customers' most favourite menu items on a global scale, and what better reason than to share in the excitement of one of the most prestigious sporting events in the world," commented Steve Easterbrook, Senior Executive Vice President and Global Chief Brand Officer of McDonald's. "This is about bringing fun, innovative programming to our customers and celebrating our shared love of futbol. We're excited to be able to do that through an engaging, interactive mobile experience, and of course with our World-Famous Fries."