Selfridges is rolling out a massive campaign, Hello Beautiful, that celebrates diversity of beauty and encourages people to share their definitions of beauty. The project that encompasses digital and outdoor promotions, in-store events and activities is called The Beauty Project, a 6-week curated program that will feature "talks, interactive debates and immersive beauty experiences."
The Beauty Project is rolling out from May 1 through June 12. The debates on various aspects of visual beauty are to be hosted by a video blogger and aired via Google+ Hangouts. This digital extension will allow all consumers to get involved into conversations that will be dedicated to six topics—Men and Beauty, Age and Beauty, Adornment/Extreme Beauty, Global Beauty, Androgyny and Natural Beauty.
Along with the Google+ meetups, there'll be also a physical Google+ photo booth, where consumers will be able to take a quick picture of themselves. The casual portraits will be featured in the Selfridges windows on Oxford Street in London and on the Selfridges website. To allow more consumers to join in, Selfridges will encourage people to share their pictures on social media, using the hashtag #beautyproject.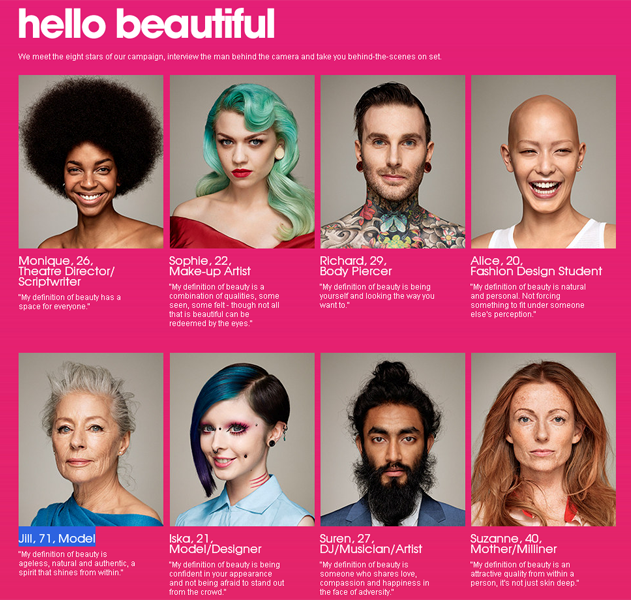 Selfridges has also launched a vivid campaign starring eight non-professional models of different age, from various creative fields. The faces in the campaign include Monique, aged 26, theatre director/ scriptwriter, Suren, aged 27, DJ/musician/artist, Jill, aged 71, model, and many more.
From May 1–June 27, Selfridges is also rolling out the Fragrance Lab, which is described as "a groundbreaking new way to explore fragrance." As part of this experience, consumers will get their own signature scent that "represents the essence of who you are."
More events and discussions are announced here.