A team of business giants—Unilever, John Lewis and the UK's largest mobile and Internet provider EE to name a few—have launched a competition that calls creative tech minds to submit their "Internet of Things" (IoT) ideas. The £1m Launchpad competition is launched in partnership with Tech City UK, the Technology Strategy Board (TSB) and Cambridge Wireless, and is open to early-stage UK startups.
The contest, which was announced by Prime Minister David Cameron at the CEBIT conference earlier in 2014, is targeted at tech teams that are focused on elaborating all kinds of ideas, prototypes of IoT products or already have some experience in this business field. If fact, the contest is open not for all British startups in this niche—it is inviting small and medium enterprises based in or working within London and Cambridge area.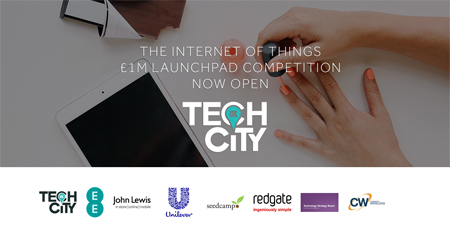 The competition is running from June 16 through September 3. The competition is focusing on the projects that are "too risky for companies to take forward without support" and "may take companies into new innovative areas." The estimated project cost should be ranging between £50k and £250k, and the projects are supposed to be last up to 12 months. The award will cover up to 60% of eligible costs of a project via refunding it on a monthly basis.
The contest's prize, which amounts to £1 million, will be split in grants of £50,000 to £150,000, which will be distributed among the winners. The partners of the competition, including Unilever, John Lewis and more, will be offering expertise insight and all kinds of support, advice in investment to a route to market, mentorship and placing their products in the retail space.
"We strive to be at the forefront of marketing and media innovation; to have our brands engage in the most creative, efficient and effective ways with the people we serve," commented Keith Weed, Unilever's Chief Marketing and Communications Officer. "That is why we launched The Unilever Foundry and it is also why we are delighted to be participating in the Internet of Things competition. We have been working with startups for years and twinned with our commitment to being at the leading edge of Internet of Things development, this competition will afford us a further exciting opportunity to engage with tech startups."