The Lumia 630 has tapped into the 100-days dairy movement with a campaign that engaged young photo documentarians. As part of the campaign, the brand ran a physical pop-up store at The Old Truman Brewery in Brick Lane, East London from July 2-6—the temporal gallery featured their art created around the "No compromises."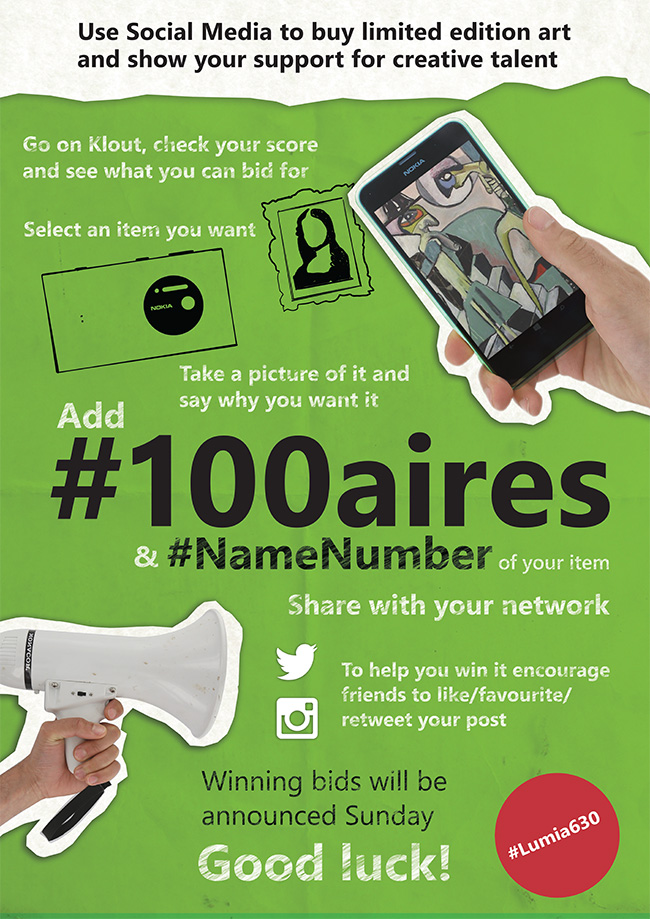 The brand invited young documentary photographers from various art domains—jewelry, fashion, illustration art and more—to join the movement by connecting via #100aires on Twitter. Nokia then selected the best 100 pieces for the exhibit.
Tapping into the movement of using social bonuses instead of real money for buying stuff, Nokia allowed to use social currency to buy the artworks on display. The Klout score was used to determine how "wealthy" in terms of online social interaction a person was. The service, which analyzes analytics to help people understand their online social influence, gave virtual "pounds" to buy of the of the 100 actual art pieces.
Users were encouraged to take a picture of the piece and share it using the #100aires plus #namenumber of the item. By retweeting and sharing the post, friends of a bidder helped him or her get the piece. The winning bids were announced on July 6.
"Klout exists because of passionate people who create and share content and ideas over social channels. Independent creatives—artists, designers, musicians, writers—are among our biggest users and most ardent fans," commented Jon Dick, Klout Marketing Executive. "Our work with #100aires Pop Up fits the spirit of Klout perfectly—celebrating unique individuals, new perspectives and the impact both have in a social, connected world."