88% of European current business leaders and 90% of future leaders agree that business should have social purpose; however, while roughly the same number of current leaders (87% or 9 in 10) agree that businesses do have social purpose now, only 19% (or 2 in 10) of future leaders agree on that.
These figures have been revealed as part of the research "Combining purpose with profit" conducted by a joint team of experts from Cranfield School of Management and The Doughty Centre for Corporate Responsibility, on behalf of Coca-Cola Enterprises. The Financial Times' bespoke research unit Remark and the international non-profit Net Impact have also taken part in the project as partners.
The research, comprising of parallel phone interviews and online surveys of 50 European CEOs and 150 recent MBA and Ms graduates, aims to learn and compare views and attitudes of both established and future leaders on the role of business in the global society and its social purpose.
The respondents were asked five simple questions—below we share them all with a brief comment on each.
1. Should business have a social purpose at all?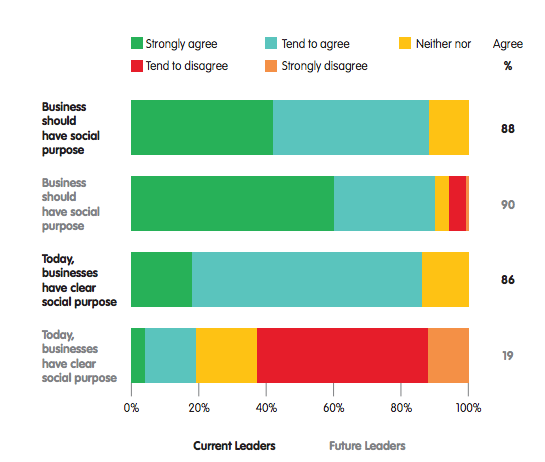 Strikingly enough, there are about 11% of managers who don't think business should have social purpose. The definition of the social purpose itself is arguable and depends on each company's core ideology. A good example is the first principle of the American initiative Corporation 20/20 that sounds as: "The purpose of the corporation is to harness private interests to serve public interest."
2. Does business now have a social purpose?
Another shocking finding of the research is the difference in understanding of social performance of business between older and younger generation. Just 9% of the future leaders agree that existing businesses actually DO have social purposes.
3. What is hindering companies' adoption of a social purpose?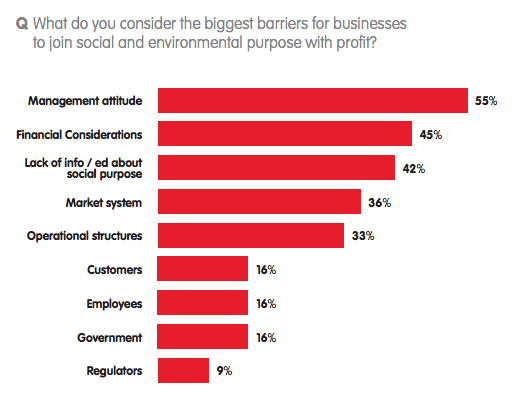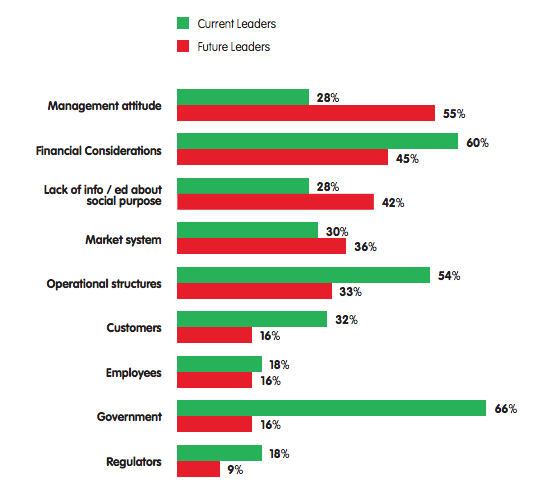 Current and future business have different opinions on the barriers which prevent companies from being socially responsible. While the older managers think the problem is more of external nature, such as government and regulations, financial considerations, operational structures or customers, future leaders view the barriers as an internal issue related to the wrong management attitude and lack of information on social and environmental purpose.
4. What would encourage business to adopt social purpose?
While younger leaders name several equally important drivers of social purpose, such as employee engagement (54%), innovations (53%), overall trust in business (51%) and relevance to the next generation (50%), established CEOs find two main factors, and they are as follows: relevance to the next generation (76%) and business survival (70%). This means that current leaders believe the businesses of the future won't survive unless they address social and environmental issues.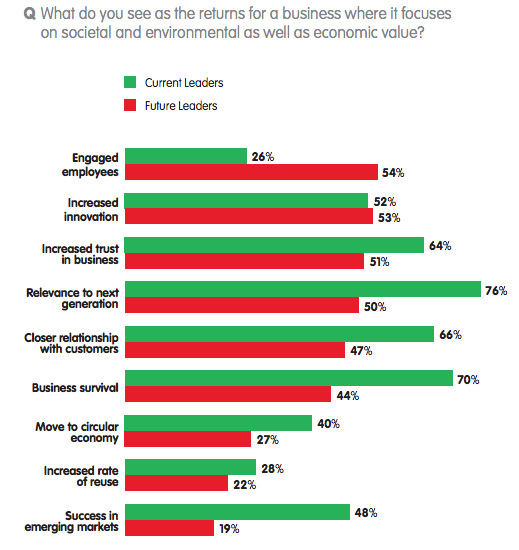 5. How should a business define its purpose?
Both future and current leaders agree that profitability and shareholder value are the main indicators of business success now.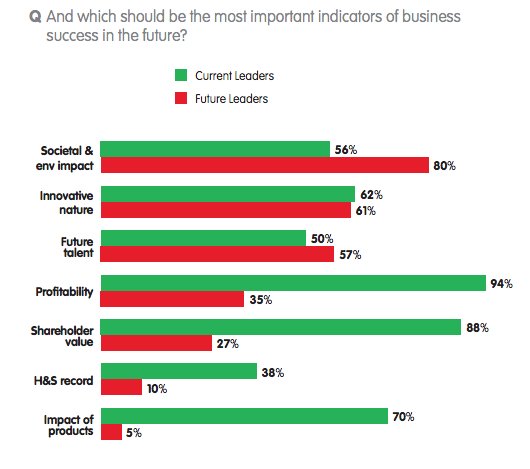 Interestingly, answering on the most important indicators of business success in future, the younger generation of managers thinks it will be societal and environmental impact of a company, while current CEOs think it still is and will be profitability.
The report was revealed at the 'Future for Sustainability Summit' in London organized on October 1st by Coca-Cola Enterprises and The Financial Times.