The international market research agency Nielsen has recently revealed its latest report on the trends in online grocery in Western Europe. Along with a general trend on digitalization of shopping behaviour across the world, the share of online grocery in total e-commerce sales is growing in Western Europe, too, however, at a different pace. It's share is highest in the UK—at 4.4%, followed by France (3.9%), Spain (0.6%), Italy (0.5%), and Germany (0.4%). An average European share of online grocery in all FMCG sales is 2.4%.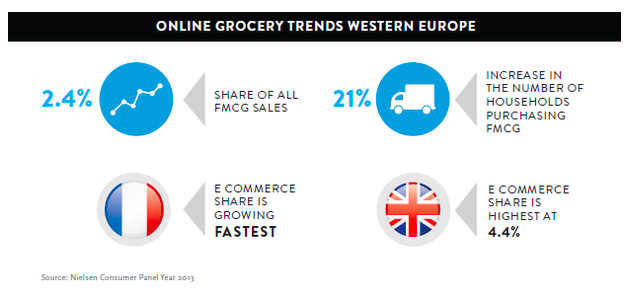 Interestingly, in the researched European "big 5" countries, mentioned above, there has been a 21% increase in the number of households buying FMCG goods, particularly, grocery online.
The Nielsen team sees the following factors of future growth of online grocery in Western Europe:
1. The faster the tech growth and spread, the stronger the grocery e-sales.
2. Consumers of different ages are more flexible than ever: the older generation thinks "younger", while Millennials are highly adaptive to changes.
3. The CPG industry business models change in favour of online sales with the aim to increase ROI from this channel.
Drawing on these three factors of growth,  Nielsen expects the two following shopper behaviours to shape the online grocery market:
Shoppers will demand a seamless cross-platform and cross-channel experience: in store, from a smartphone or desktop, or an app—in order to make a routine food shopping easier.
European shoppers may become more price-sensitive: they may even use group discounts to drive the prices down.
The full Nielsen's report The Digital Consumer's Journey in the Western European Grocery Market can be requested and downloaded here.