Since the smartphone boom was first ignited in 2008, mobile apps have come to represent an integral element of the digital ecosystem, in turn establishing an economy worth several billion pounds. As with any boom, there is inevitably a bust and, although not fatal, recent research from Deloitte indicates that downloads are declining in the now-saturated app market. As such, the prolonged relevance of the app economy rests on its ability to redefine its purpose and maintain concurrence with the evolving digital landscape.
Deloitte's research highlights that almost one-third of users do not download any apps in a typical month. In addition, 9 out of 10 say they never spend money on apps. Yet mobile continues to grow in pervasiveness; so whilst average monthly app downloads per user have dropped from 2.32 to 1.82 in the past year, it suggests that rather than using apps less frequently, people are simply using fewer of them. Services such as Google Now and Apple Passbook are attempting to replace the roles of several apps at once, giving users dynamic access to relevant pieces of information, known as cards, that traditionally require separate apps.
The majority of users' refusal to spend money on mobile downloads enforces the position of mobile as a primary vehicle for productivity, information and communication; where users expect access to services without paying for them. Rather than a wealth of apps that fill specific, niche roles, the big-name players are now offering powerful all-purpose solutions like Citymapper and Flipboard that somewhat negate the need for more apps on the home screen.
Similarly the increased willingness of larger companies to acquire the projects of small, innovative start-ups will only continue as their revenues soar. The trajectory of WhatsApp and Summly has proved this, with their initial success leading to big-money acquisitions by Facebook and Yahoo respectively. Google recently acquired WordLens in similar fashion, implementing the latter's functionality into the newest iteration of the Google Translate app and billing it as a new feature. Given the difficulty of building and maintaining widespread interest in apps, the largest names in tech are attempting to literally buy into what's current in order to maintain and solidify their position at the forefront.
The maturing market, coupled with an increased expectation of mobile users, places emphasis on the necessity for apps to have longevity and genuine purpose to maintain relevance. Uber's use of mobile to connect users with nearby taxis is one such example, as is the partnership between Argos and delivery service Shutl, which lets users check stock levels and have items delivered the very same day. The shortening of delivery times with concepts such as Amazon Prime and Shutl, allow users to obtain a product or service at any time of day, regardless of their present or future location. Effectively bringing this functionality to mobile is of critical importance, and the techniques of Uber, Amazon and Argos represent the best way to accommodate this insatiable consumer demand.
Mobile's vast expansion into pre-digital era situations like hailing a taxi or ordering a pizza has naturally sparked a debate around whether we should be taking a mobile-first approach to everything. User behaviour is certainly indicative of this notion, and the next trend will see the development of mobile enabling the ongoing success of traditional entities, by augmenting the in-store experience. With the ascension of digital there has been far greater offline/online confluence in the retail sector, and both the concept of click-and-collect and the implementation of in-store technology are proof of this.
This fluid omnipresence of mobile across traditional and non-traditional situations reiterates the necessity to develop services for all platforms and operating systems. Delivering service with continuity as users shift seamlessly between their devices has enabled the success of Netflix and Spotify, and is a model to emulate in all industries. There are notable inconsistencies in patterns across user bases, but it proves sensible at all times to cater for those using Android, iOS and Windows Phone/Tablet. Users expect services to be accessible and consistent regardless of the platform they're using, and in a crowded market where word of mouth is the best accelerator of success, alienating large user groups can prove detrimental to success.
Mobile will ultimately continue to be a pervasive, omnipresent platform. It is imperative that successful apps serve a strong purpose, have prolonged usefulness, and are centric to the brand. There are far too many who try to build an app before the rest of their mobile experience is right, and having a well designed responsive website should be implemented first. It's important that the justification for building an app is not that everyone else might have one, but because it is filling a genuine need for your business or customers and in turn enhancing, expanding and improving the overall experience. Apps and mobile solutions that continue to do this will long have an instrumental role to play in driving future development of the wider digital landscape, a landscape which is set to place mobile at the very centre.
About the Author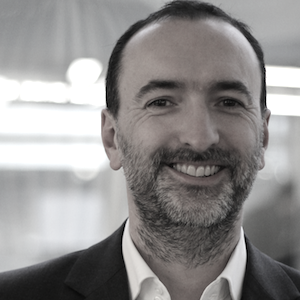 Adam Croxen is the Managing Director of Future Platforms. He leads the team to new heights of success through new business acquisition, fresh strategy and making sure the clients are really confident in what they're doing for them.
His experience was gained in developing digital strategies, managing teams and delivering interactive programmes of work for commercial clients such as Deutsche Bank, Mercedes-Benz, Microsoft, John Lewis Partnership, B&Q, Argos, O2, Shell, P&G and IKEA as well as governmental projects.