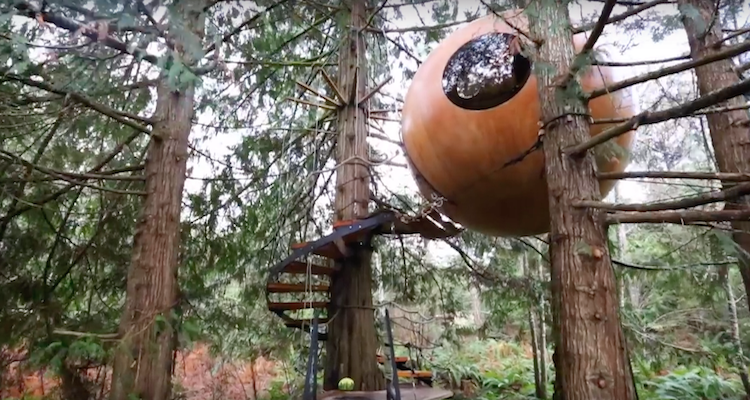 Cosy houses on the trees – are pleasant memories from a very early childhood, which cast the most magical feelings. Now on the island of Vancouver, everyone can plunge into the time of serenity while preserving the integrity of the forest and its tourist motives.
Vancouver Island, located on the west coast of Canada in the province of British Columbia, is known for its eco-tourism. Majestic pine forests, ski resorts, a huge park for a camping and a host of other things each season attract a greater influx of interested tourists.
In order to preserve the beauty of nature and the environmental friendliness of this place, designer Tom Chudleigh created spherical eco-houses, which were subsequently offered for rent to all visitors to the island. They are located quite high (4 meters above the ground), which allows you to grasp the entire charm of the splendid island from the window. At the same time, the houses are in a secure hanging position, which allows them to waggle gently in a natural rhythm.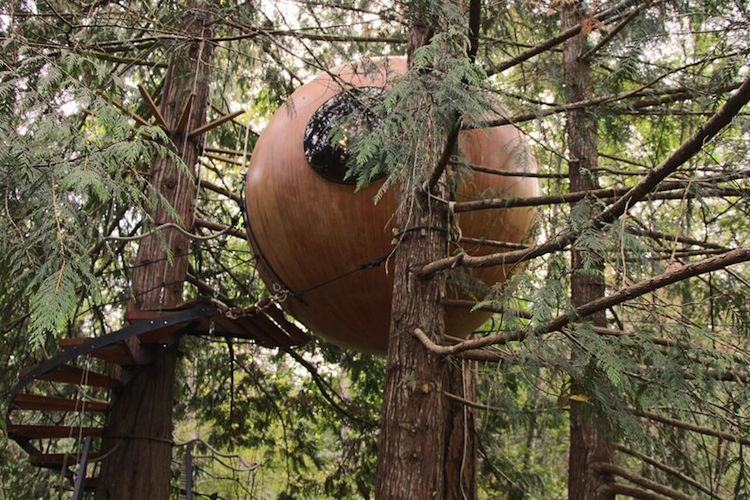 Inside these houses there are the most basic things that you need for overnight stays and even more: a loft bed, a refrigerator, a microwave oven, an acoustic system, a water pipe, a luxurious steam room. Also houses are equipped with an electric heating system, so that in winter tourists can feel quite comfortable here.
A good reference to children's treehouses is the quaint floating steps-bridges leading to the spheres. Jumping on them, you can again feel like a carefree teenager. However, unlike rough wooden structures from childhood, sphere houses are an example of a brilliant engineering solution that involves maximizing the effective use of space to accommodate all necessary things and to meet the needs of tourists.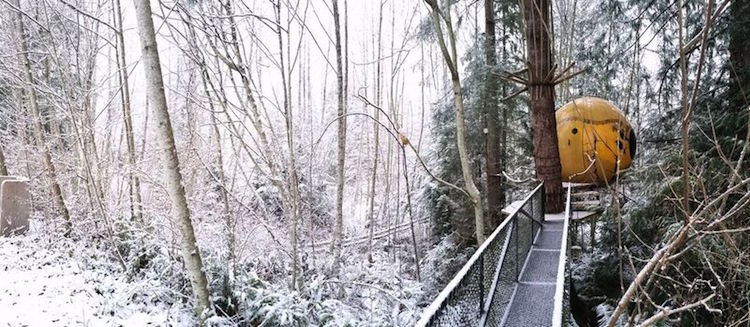 Sphere-shaped houses not only look aesthetically, but also benefit in the field of preservation of the environment. They are made mainly of wood, recycled materials and fiberglass. And even the form of the dwelling evokes a profound sense of the integrity and harmony of nature. By the way, so far three spheres are open for visiting, each with its unique name and design, and two more will also be available for visitors soon. However, if such a type of housing will be in demand, this is not the limit.