Carlsberg Presents Female Eve Drink to the UK
Carlsberg is going to treat UK women with is newly-launched product called Eve. It is a light alcohol drink with only 3.1% abv with only 123 calories in each 250ml bottle. It is produced in two flavours, the usual one and the fruit one.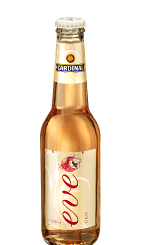 The brand is going to reach the major sector of the alcohol market. With women consuming 40% of spirits and 25% of beer, the market share of the brand is going to be huge even if it wins only some part of the sector. The convenient size if the bottle is not going to be changed for anything bigger.
The German division represented this brand earlier with the following design, shown below.