Dr Pepper: What's The Worst That Could Happen…?
Coca-Cola Great Britain's teen-centric brand, Dr Pepper, is back in 2010 launching a new multi-platform brand campaign around its potent and award winning creative, 'What's the Worst that Could Happen?'. Embodying the heart of the brand's daring and youthful personality, the fully integrated activity spans digital, TVC, on-pack and sponsorship.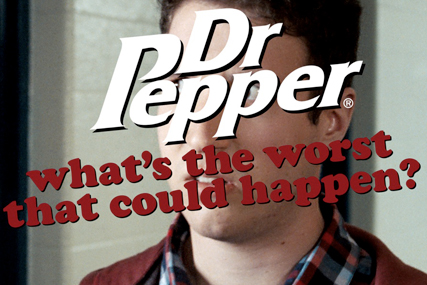 Kicking off with the brand's first ever standalone push online, a Facebook community is launching through a dedicated UK fan page that comes packed full of comedy and embarrassment. Set to bring the 'What's the Worst that Could Happen?' philosophy to life, the jam-packed interactive hub will include a dedicated news feed and host brand content. To create further buzz, fans will be invited to play a dramatic Dr Pepper Status Takeover, where those who dare could cash in as teens are challenged to put their own Facebook status into the hands of Dr Pepper for a chance to win £1000. The user will have to be brave though, the more embarrassing the status update is, the more the chance of winning the prize.
Ringtone giveaways will also run across nine million 330ml cans and 500ml bottles. In keeping with the 'What's the Worst that Could Happen?' ethos, tones offer a moment of random humour and entertainment.
On air, the tongue in cheek 'Nurse' spot and colourful 'Over Friendly Father' creative, return to TV and cinema from March.
CCGB has struck a three-year deal to sponsor the 'Tidal Wave' ride at THORPE PARK. Through the partnership, Dr Pepper branding will be splashed on the ride, and visitors will be entertained through queue interaction and a permanent 'What's the Worst that Could Happen?' experience spot. Finally, a targeted sampling campaign will run through the key summer period, offering consumers the chance to try 150ml Dr Pepper cans, after all 'What's the Worst that Could Happen?'