Coca-Cola Is 124 Years Old Now
This Saturday, May 8, Coca-Cola marked the 124th anniversary of the day the first glass of Coca-Cola® was served at Jacob's Pharmacy in Atlanta, where it sold more than nine servings a day for a nickel a glass. Since that day, Coca-Cola has continued to bring people together by inspiring moments of optimism and uplift, and providing an antidote to the negative forces of the day.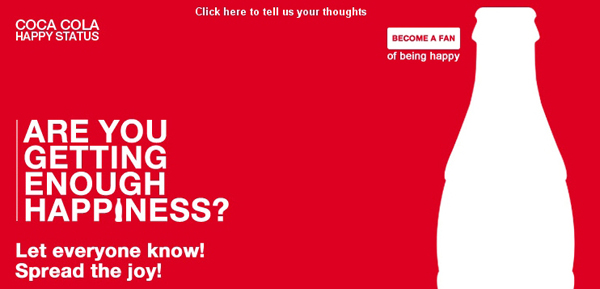 What began with one drink at a soda fountain is now the world's largest beverage company, with a global franchise system that operates in more than countries. Coca-Cola is the world's most recognized brand and now anchors a portfolio of more than 500 brands and more than 3,300 beverages. In 2009, 9.8 billion cases of our flagship brand were sold worldwide.
From "The Pause that Refreshes" to "The Coke Side of Life" and now "Open Happiness," the brand's advertising has always recognized that even amidst the complexity and stress of modern-day life, each day presents opportunities to find moments of simple pleasure.
The building blocks of brand Coca-Cola — including football, the Olympics, meals, Christmas and teen recruitment — focus on inspiring happiness by creating connections that transcend age and geography. Coca-Cola has tagged along on beach trips, helped cheer on our favorite teams, and enjoyed a seat at the table for family meals. The brand has been there in the good times, and has also strengthened its emotional bond with consumers by bringing a breath of fresh air and positivity during tough times, including periods of war, economic turmoil and social unrest.
Coca-Cola's role as a beacon of happiness has taken on new life in the new media realm. Every day, Coca-Cola is mentioned thousands of times in online communities, blogs and through services like Twitter and YouTube. In fact, more than 5.4 million Facebook users have signed up as fans of the Coca-Cola page since two Coke lovers from Los Angeles created it in August 2008.
Coca-Cola is building brand love among a new generation of consumers by reinforcing the "Open Happiness" message in the digital space through innovative "Doses of Happiness" applications like the "Happiness Machine" viral video (view below) and other social media widgets and mobile goodies, such as Cheers to Happiness and the Coca-Cola Happy Status App on Facebook.