Google Earth Only Gets Better
On Tuesday, June 15, Google released its biggest update of Google Earth since its 5.0 edition. Within the newest version of Google Earth, 5.2, there are a couple of new features adding to the experience.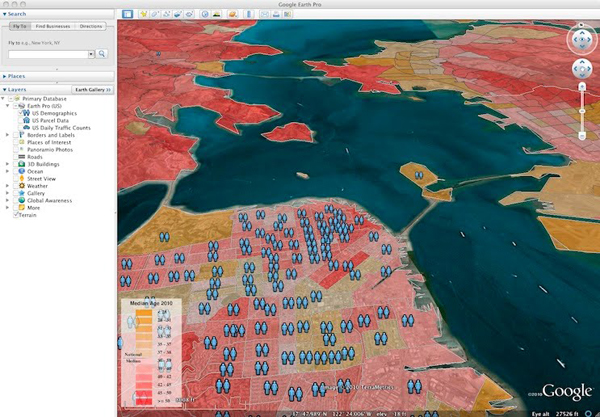 Image Courtesy: Google Lat Long Blog
The first new feature allows people that use a GPS navigation handheld to help shape the reconstruction of areas visited with other Google Earth users. A person can transfer all the data from GPS units such as Garmin and Magellan models from their excursions, hikes and exotic travels much easier than in past versions of Earth.
A user can also modify their reconstructions by adding one of the appropriate vehicle models from Google's 3D Warehouse.
Google Earth 5.2 also has a new function that when you view local information on businesses you have found within your mapping you will be able to browse around without leaving Earth because of an embedded WebKit-based browser.
Though Google Earth is free for all users, Google also sells a Pro edition for $400 a year. Some new features for this professional edition include access to information such as demographic data and land parcels. This subscription available Pro will also allow members to import maps and plot them easily into Google Earth.