Designing Identities: Part 1
By Helge Tennø, Scandinavian Design Group,
The way we are making and selling design is becoming generic and confusing. One of the challenges is that design, as creativity, is described as a product, an end goal. When the fact is that neither design nor creativity is a result, it's a description of how we get there, not what we will end up with.
The following is the first of three installments beginning with the definitions of what is design and what is creativity, followed by thoughts on how to create and understand identity — thoughts by SDG's expert, Helge Tennø.
I suggest using the term design correctly, for its unique abilities, purpose and meaning. The goal would be to offer a product with clear direction and intention, where the undiscovered result is tangible, where the spark has grown into a shared dream and where the need to articulate hasn't created any premature answers.
This is all within reach, but it requires us to do what we are best at telling others and avoiding ourselves. It requires change:
1.  Creativity
Creativity implies creating new stuff by combining two or more existing ideas. But, 'creativity' is a generic term. It is abstract and has no reference to quality in regards to a specific situation or task. Creativity is not a goal in itself, it's the character of an activity; it implies nothing more than an exploration with the intention of connecting something known, but previously unconnected.
Creativity is not focused on finding the best solution, but an original one. Telling someone that we are going to have a creative process implies nothing more than: 'We are going to spend some time coming up with something new". When it should be: 'We are going to come up with some shit that really works'.
Everyone is creative, every industry is creative, be they accountants, conceptual artists, storytellers or craftsmen. We pursue a creative process in order to find original answers. Selling a creative product gives no implication of craft or process, no suggestion of specialization or expertise. Creativity is a given, in every line of work in the knowledge industry, it's not a specialty.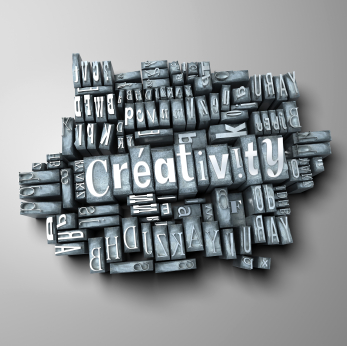 Image Courtesy: Writing Forwawd
2. Design
Design is not a product; it's a craft and a process.
In the words of Li Edelkoort: "there is no creation without advance knowledge, and without design, a product cannot exist."
We generously use 'design' as a term to describe any visual or molded surface or object. Which removes the implication of quality and purpose from the distinction of design. This has led it to be a term for anything, by anyone, at any skill level. Design is not a reference to quality, it's merely a reference to someone treating something based on an assignment, free to interpret it and using any language to express it as they please.
Articulating design as a product has manipulated it's meaning. What is design?
1. Design is a craft; it's an approval of quality. Design is not accidental, it's not just creative thinking (combining stuff in new ways), it's solving problems or challenges using the language and instrument that a designer masters. Design is a guarantee that the end result is an expert solution to a problem.
A simple question to answer is: 'Is there bad design?" And I would say no. Bad design is not design, if it does not fulfill its intended goal, if it doesn't solve the components of a brief but veers of on its own, its decoration. Of course, one could argue that the language and instrument used is different from the personal preference, but there is a big difference between liking something based on gut feeling and personal taste, and evaluating a work of design. There is a difference between liking the posture and personality of a spoon and evaluating the craft of the spoon and its ability to work as a kitchen utensil. Of course, personal taste is an important aspect of the visual language, but do not confuse taste with craft.
2. Design is a process; it's a way of reaching goals, thinking, working together, establishing an understanding and reaching goals. Design is an exploration and learning process, it's visual, hands-on and inclusive. It avoids dreary slideuments and strategic paper mills and keeps peoples dreams and ideas alive through visual and tangible prototypes.
Design believes in humans, their predictable irrationality. It believes people are affected and motivated by the situation they are in, more than their demographic or other dehumanized system for segmentation. Design understands context. It values observation and believes first hand immersion is a better way to learn than reading lab reports.
The design process does not follow the path of generic sameness, its not abstract structural templates of how to think and act in order to come up with great ideas. It starts of in multiple directions and explores each one of them in the best way one could.
The design process knows we are going from A to B, but also knows that the direct route between these two is the high-way every one is using (a version of the linear development model), and by that we end up with similar products. We end up adding one more product to the category, not disrupting it and reinventing it completely. We design based on the insights we've gathered, but insight is not protected from the dangers of sameness. If we use the same process for creating insight as everyone else, then the insight itself is bound to end up the same.
The best way of assuring that everybody comes up with the same ideas is to give them the same tools, the same models and the same mindset to work with. This is the way the linear development model works. The design process knows that if you are to discover something new, then even the design process itself needs to be original, and it does this by acting organic and responsive to the temperature, explorations, discoveries and insights found during each iteration.
The design process knows that in addition to the known goal (B) there is an unknown component, an X, and that even though we are going from A to B, the one thing that is immaculately important is discovering the X. Without it the product is a copy of everything else.
Finding the X is the object of the design process. The process is not directionless, but organic, responsive and most of all disruptive in the way that it is led by the ideas, not the map. The design process is all-inclusive, It says that our source of inspiration might not come from what's right in front of us, and certainly can't come from it if we are to find something better than what's already there.
Finally a design process is a learning process, it doesn't know what it is supposed to find before it sets out and it needs the flexibility within a framework to adjust and relearn every step of the way. A design process is of exploration and discovery.
The design process very much implements what we have learned about people and unlearned about the organization for the past 20 years.
About the Author

Helge Tennø is a planner at Scandinavian Design Group, Norway's biggest design agency and a part of the McCann World Group. Helge writes an acclaimed blog 180/360/720 and regularly contributes articles and content for printed and online publications. You can read his invaluable presentations here. Helge can also be followed on Twitter — @congbo.