Landor's Survey Shows Global Differences in Green Concerns
The fifth annual ImagePower® Green Brands Survey conducted by WPP agencies Cohn & Wolfe, Landor Associates and Penn Schoen Berland along with Esty Environmental Partners showed increasing concern about the environment and a desire to support companies that are environmentally responsible.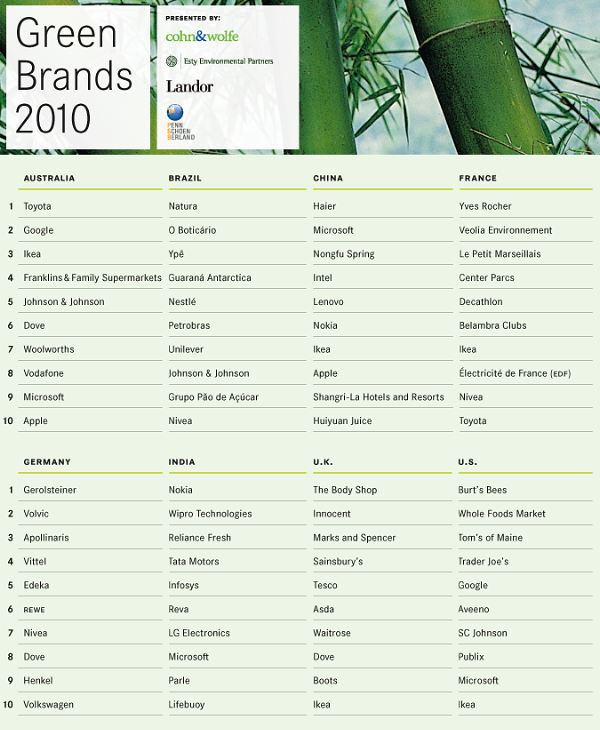 The results are gathered from more than 9,000 people polled in eight countries —Australia, Brazil, China, France, Germany, India, the United Kingdom, and the United States.
Though data shows that most people trust green advertising, there are different identifying features in brand to indicate whether a product is eco-friendly or not. An example of this is consumers China, France, and Germany trust certification marks to help them weed through confusing labels.
Countries with emerging economies also showed there is more of an increase in plans to spend for green products over the next year versus established countries that seemingly hit a plateau in respect of green products and services. In China and India showed an increase over similar 2009 results in these expectations with a 9 and 3 percent increase respectively.
Climate change is still the top concern in five of the eight surveyed countries but that is where the global trends start to differ. In the United States, energy is the second ranked issue but in the UK it is tied for first with the changing climate. Australia has faced recent droughts so it is no surprise that water conservation is number one issue for them and deforestation is at the top for Brazil and India.
All of results to the 2010 survey can be found at www.landor.com.
To watch the conference, follow this link.