PepsiCo's Dream Machine Challenges Americans to Support U.S. Veterans by Recycling Used Cans
PepsiCo announced the Dream Machine Summer Recycling Challenge, a national call-to-action asking Americans to commit to recycle every can and bottle at summertime cookouts, starting with Independence Day. The more Americans recycle in Dream Machines, the more support PepsiCo will provide to the Entrepreneurship Bootcamp for Veterans with Disabilities.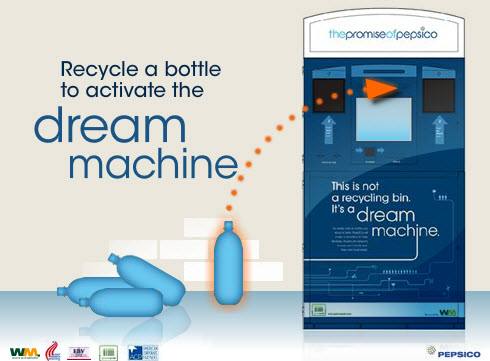 "There are few better times to thank the men and women of the United States armed forces for their sacrifice and service than Independence Day. We are proud that through the Dream Machine initiative, PepsiCo will help many of our veterans receive valuable job training," said Jeremy Cage, PepsiCo's head of the Dream Machine initiative. "We kicked off the Dream Machine recycling initiative on Earth Day and we are delighted that so many partners are making—or considering making—the bins available at their locations in cities and towns across the country."
PepsiCo's Dream Machine recycling initiative, created in partnership with Waste Management, was developed to support PepsiCo's goal of increasing the U.S. beverage container recycling rate from 34 percent to 50 percent by 2018.  Since the Dream Machine launch on Earth Day 2010, PepsiCo has formed partnerships that will make the kiosks available in a number of highly trafficked public locations across the U.S.
Actress, comedian and author, Aisha Tyler, is lending her voice and talent to the cause with the debut of her new cinematic video short, COMMITTED. As writer, director and star of this exciting film, Aisha is hoping to get other Americans as fired up about recycling as she is.
To learn more about the Dream Machine, please visit www.facebook.com/DreamMachine.