Baileys Teaches Fans to Shake Up Coffee Cocktails on Facebook
This summer, Baileys Original Irish Cream is celebrating iced coffee by teaming bartenders and baristas from across the US to create unique coffee-inspired cocktails. Pairs from six cities across the United States are appearing in a series of online videos demonstrating mixology and brewing techniques for perfecting delicious iced coffee cocktails at home.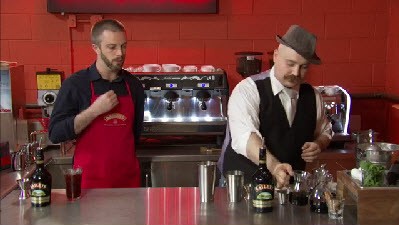 The webisodes, airing on Facebook throughout the months of July and August, are part of an exciting new campaign introducing Baileys Iced Coffee cocktails as the ultimate 5 o'clock coffee break. These short, educational segments are available on the Baileys Original Irish Cream Facebook page and encourage viewers to take a break at 5 o'clock to mix up these easy-to-make drinks.
"Since 'barista' is Italian for 'bartender' and our product is often paired with coffee, it is a natural link to connect the mixology and coffee worlds," says Baileys Brand Director, Dana Yerid. "We are excited to use this relationship to enhance the 5 o'clock coffee experience by providing our fans with knowledge from these experts in a fun and interactive way."
The video series highlights bartenders and baristas from New York, Los Angeles, Chicago, Seattle, San Francisco and Cleveland.