YouTube and L'Oréal Launch the "Destination Beauty" Hub
YouTube pays a tribute to beauty with a launch of L'Oréal Paris sponsored channel. The new hub Destination Beauty, which was opened last week, is designed as a platform for tips from industry gurus (make-up tutorial phenom Lauren Luke, makeup artist Kandee Johnson, and Seventeen Magazine). During a period of a year the page will be constantly updated with new spots, and maybe over some time this online destination will eventually turn into one of the favourite digital spaces for both consumers (any woman 18 to 54, the target audience) and beauty professionals.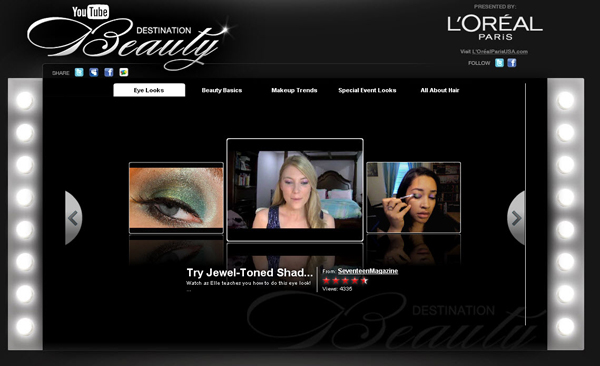 The hub is featuring videos related to everything about looking gorgeous, and will not be limited to only make-up theme. The loyal visitors to this online destination will learn a lot of things ranging from skincare and eye care to how to imitate celebrity looks. Now, the channel features videos, which teach how to make "Gorgeous Smokey Green" eyes or create a "Flawlessly Natural Look." The new content will be uploaded to the hub every week along a with special seasonal videos.
The channel will feature not only L'Oréal brands, but of course, they will have priority. "What makes this partnership so special is that (L'Oréal) understands that people are looking for tips regardless of whether they're L'Oréal products or not," commented Ryan Olohan, Google's beauty industry head.
The launch of the new hub dedicated to cosmetics and, which is more important, to how to use these products, and comes on the wave of the huge popularity of the beauty theme on YouTube—as for now, 15 of the most viewed channels on this most popular video content website are tagged as "Beauty."