Domino's Pizza Turns to Online Community to Decide Extreme Delivery
Domino's Pizza is once again delivering in unexpected ways, giving Facebook users the power to choose the company's next "Extreme Delivery." Now through August 30, customers have a chance to vote on what they think is the most extreme method to deliver a Domino's Pizza.
"Domino's has made many unique and surprising moves in the last year, reconnecting with our consumers and fans in new ways," said Chris Brandon, Domino's Pizza spokesperson. "This is really an extension of just that – and our most recent way of answering the question 'Did Domino's really do that?' with a resounding 'Oh Yes We Did!'"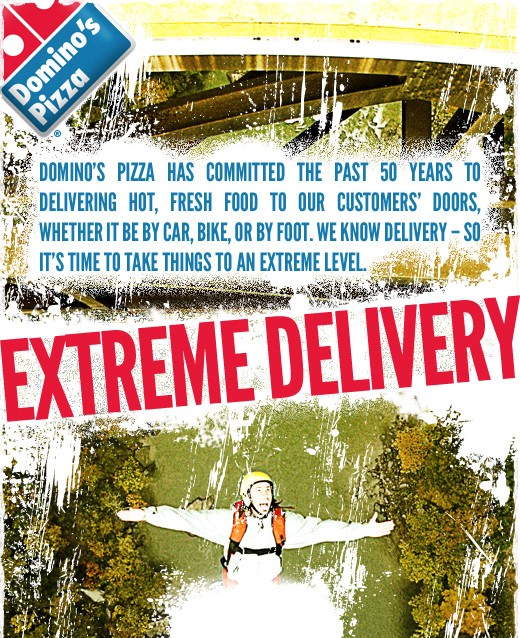 Facebook users who visit Domino's Pizza fanpage can vote on one of the following extreme delivery options:
• The first weightless pizza delivery in a zero gravity airplane
• A high-wire delivery by daredevil Jade Kindar-Martin
• Dan "SpiderDan" Goodwin climbing the Campanile Tower at The Venetian® Resort-Hotel-Casino in Las Vegas
• Hitting terminal velocity with a skydiving delivery
• Plunging to earth with BASE jumpers at Bridge Day 2010
Those who log onto Facebook to vote can also enter to win a $1,000 Domino's Pizza gift card. To enter and see official rules and details of the contest, visit www.facebook.com/dominos. Domino's will execute the delivery that is crowned "Most Extreme" later this year. Consumers can visit the extreme delivery poll directly in the hub.
Last year, Domino's delivered Chocolate Lava Crunch Cakes to tourists enjoying the breathtaking views at Mount St. Helens. Because no Domino's store delivered to the spot, Domino's hired a helicopter to make it a truly extreme delivery.
Here is the video from there: