Levi's "Care to Air" Winners Are Here
Levi's isn't only focused on selling the jeans—the brand is also concerned about its after-shop live, the way they will be washed and dried. To make the cleaning process as green as possible, on the first day of summer the brand teamed up with Myoo Create to launch its "Care to Air" contest, encouraging creative minds to try and find the most sustainable air-drying solution for clothing. Now Levi's is here to announce the winners of the competition, who introduced the most stylish and effective methods.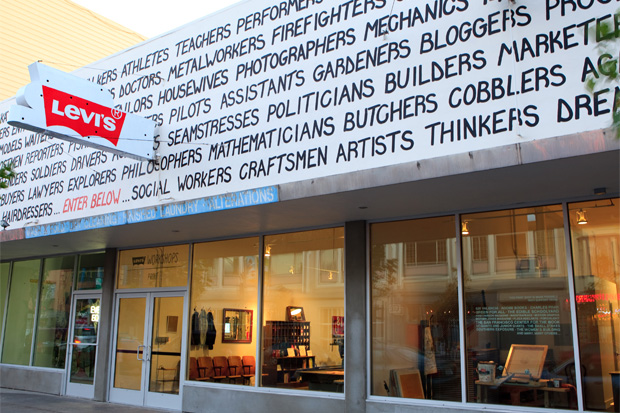 Image Courtesy: Myoo Create
The entrants of "Care to Air" were asked to submit their idea—a description of 200 words and images,—which had to be aesthetic, scalable, sustainable and innovative. They were later shortlisted by the public voting (3 entrants), which was running from July 1 to August, and by judges (3 entrants) to form a group of six finalists and head to the live judging event in San Francisco (August 16), where they presented the projects. After the presentations, the panel of experts named the winners of the "Care to Air" challenge.
Each of the finalists received $500 (ahead of the grand meeting) and the creators of the winning designs got $4500 (1st Prize), $1500 (2nd prize). There was also $1000 of a money award for the Crowd Favorite, the top idea based on community voting, and $500 for each of the 2 Most Valuable Community Members, who posted the most valuable comments on the challenge entries.
Here are the winning designs (the detailed description as well as the information on the projects by finalists can be found here):
The First Prize: "Nothing is what it seems" by Caleb Hill
Image Courtesy: Myoo Create
"The undercover drying rack solves the problems clothes lines and other drying racks face in terms of aesthetics, usability and space limitations. It can be produced locally using salvaged wood and hemp rope to make it a more sustainable product."
The Second Prize: "The Evaporation Station" by Jeff Munie
Image Courtesy: Myoo Create
"The Evaporation Station is an air drying station designed specifically for an urban environment. It is made of 100% stainless steel and designed with nesting pieces to minimize the amount of wasted material during production. The Evaporation Station is a wall mounted system, which eliminates the need to be set-up and taken-down every time. It is designed with enough room for one person to dry the clothes, but can be expanded into multiple units."
The new solutions are sure to improve the air drying techniques and help considerable reduce the amount of the energy used during this process. Will they come to your home? Time shows.
The photos from the event can be viewed here.