Google Introduces Gmail PC-to-Phone Calls
Google is making a step out of the digital-only world by providing Gmail users with a nice service, which enables them to make phone calls to people, who are away from their computers. Previously, to make a call both of the sides had to be signed into Gmail at the same time, but starting yesterday, August 26, people from the US can call any fixed or mobile phone directly from the inbox.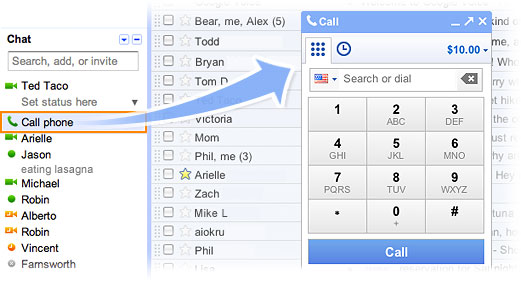 The new PC-to-phone feature is integrated into the chat list on the Gmail page. Making a call is actually very similar to starting a regular chat or video sessions.  Once a user has clicked on the "Call phone" button on the top of the friends list, a telephone key pad appears—after that, a user can dial the number (by clicking on the numbers with a mouse, copying or typing a phone number) and start a conversation.
And what about the prices? Calls to the USA and Canada will be free, and to make a call to some other country, users are asked to pay strikingly little money—for instance, a voice conversation with a friend in Australia, France, Germany or the UK and more will cost only $0.02 per minute (the full list of rates can be found here). To date, only US-based users can enjoy the benefits of the new service, while the global roll out is announced, but no dates specified yet.