Glenfiddich Launches Inspiring New Global Advertising Campaign
Glenfiddich launched an inspiring new global advertising campaign— "One Day You Will"—as the brand continues to strengthen its position as the world's favourite single malt. One Day You Will is part of a heavyweight integrated campaign which includes Relationship Marketing, digital, social media and PR. In a refreshing departure from 'traditional' single malt whisky advertising, the new campaign includes both lifestyle and tasting note executions accompanied by the line One Day You Will, a call-to-action encouraging consumers to make the most of life's adventures.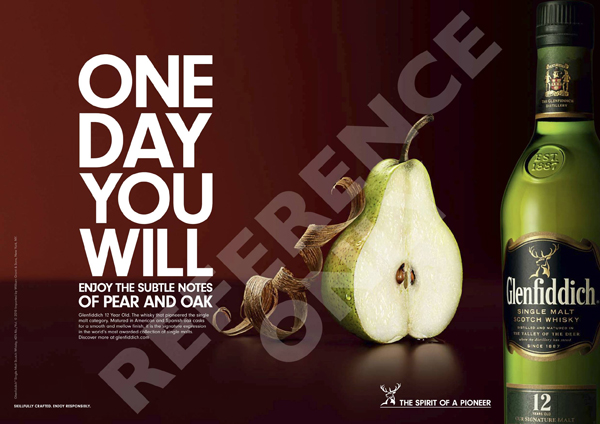 The lifestyle creatives feature awe-inspiring scenarios, including a sailing boat on open water and a spectacular mountainous landscape with two men looking out to the distance. The images celebrate the journey taken in realizing a goal or ambition. The tasting note executions hero the delicate notes of the Glenfiddich 12 Year Old (pear and oak), the Glenfiddich 15 Year Old (honey and raisin), and the Glenfiddich 18 Year Old (baked apple and cinnamon). The Glenfiddich 12 Year Old is also the star of a dramatically shot cinema ad which will run in the UK, in November 2010. All executions will be rolled out in outdoor, print and digital formats.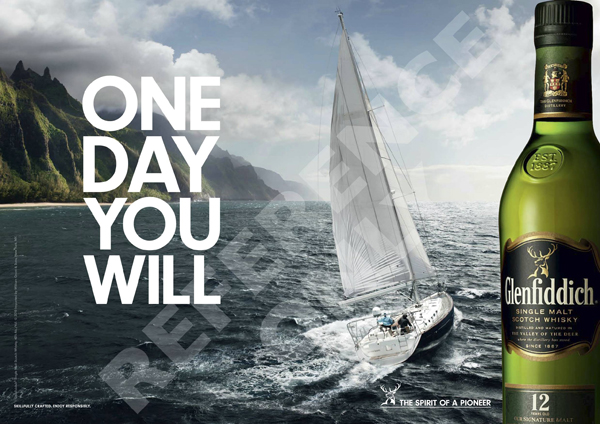 Katie Rawll, Glenfiddich Global Brand Director, commented, "One Day You Will takes Glenfiddich into a brave new territory for single malt. We pioneered the single malt category and have a long history of whisky innovation. Our new advertising campaign celebrates our consumers' self-belief and reflects our pioneering spirit and this future looking concept clearly differentiates Glenfiddich from our more traditional competitors."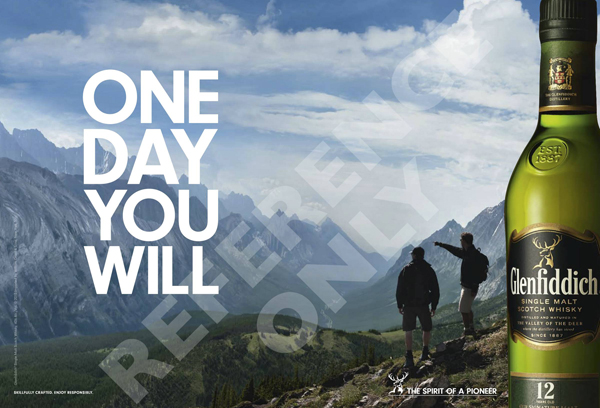 Glenfiddich's new brand positioning and core audience insight was developed by brand consultancy, The Gild. It is this new positioning which translates into One Day You Will, which was developed by creative agency, Leagas Delaney. Founder, Chairman and Executive Creative Director, Tim Delaney, commented, "We wanted to reflect the pioneering spirit that runs through Glenfiddich and showcase an optimistic outlook that goes beyond pure ambition – inspiring consumers around the world to fulfil their lifelong dreams and ambitions."
The new advertising campaign was kicked off globally on October 18, 2010 and is supported by a multi-million pound global media spend across North America, Asia
and Europe. The campaign is supported by a comprehensive global PR, Relationship Marketing and digital communications platform, www.glenfiddich.com/explorers, which identify, foster and celebrate the world's most pioneering people, ideas and endeavours. This will be supported by the launch of bursary programmes which will enable Glenfiddich consumers to turn their ambitions into reality.