Is Happiness the Anti-dote to the SOBER Years?
Listening to Radio 5 Live's breakfast show the other week I heard for the first time the sober thoughts of Mervyn King, Governor of the Bank of England. Apparently the next decade will not be 'nice' (non-inflationary consistent expansion) and that after years of binging it's now time for us all to sober up (savings, orderly budgets, and equitable rebalancing). It was of course refreshing to hear something other than the Wayne Rooney, 'is he, isn't he' staying at Man U soap opera Mervyn doesn't exactly inspire you to throw the duvet off and rush into work!
So how are we going to make ourselves feel better even if we're not actually going to be better off? Channel 4's chairman, Archie Norman has some advice for the recession virgins among us, 'The first thing is to communicate to everyone that this is not short term, this is long term. Once you understand that, you can get on and enjoy it.' Norman is right — we need to face facts and then work out how we can use these sober times to our advantage. Strange though this may seem this idea fits perfectly with Madmen's creative genius, Don Draper: 'advertising is all about happiness. And you know what happiness is? It's freedom from fear.'
But can brands really help us feel happy and secure? Is it possible to fly in the face of the old adage, that 'money can't buy you happiness?' Some like economist John Kenneth Galbraith would argue that happiness goes beyond material gain; that the likes of Don Draper conditioned people into thinking they needed things they really didn't and creating artificial desires that would be inherently disappointing to fulfil. Perhaps it's just a matter of scale, brands shouldn't over state their role in getting us through the next ten years of slog however they can help brighten up our day in some small way. They can engineer a little happiness in our lives.
More and more brands seem to be picking up on this need to provide us with the antidote to our new found sober -ness.
Coke — it's surprising what can make you happy.
The 'Open Happiness' campaign from Coca-Cola uses surprise to make us feel good. The happiness-spreading viral was shot over two days in London at a secret location and condensed down into just two minutes. Entirely unscripted, it shows the Coca-Cola Happiness Machine dispensing a feast of unexpected items including popcorn, strawberries and cream, and games of Twister to some unsuspecting British students. This is a sequel to the original Coca-Cola Happiness Machine US viral, which earlier this year caught the world's imagination with one million views on YouTube in the first week alone. By pulling surprising and delightful little stunts Coke disarms people, they then forget their concerns and are consequently, surely, more likely to spend money. In this way Coke helps to coax us out of our anxieties!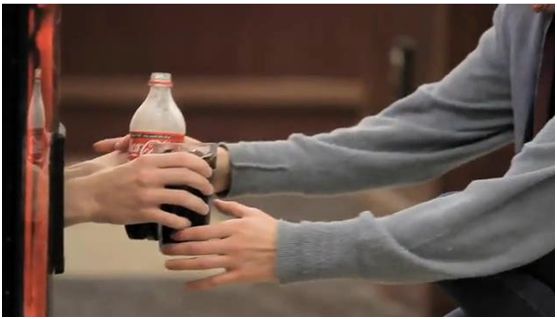 Image via: Converge Weekly
Full video/viral: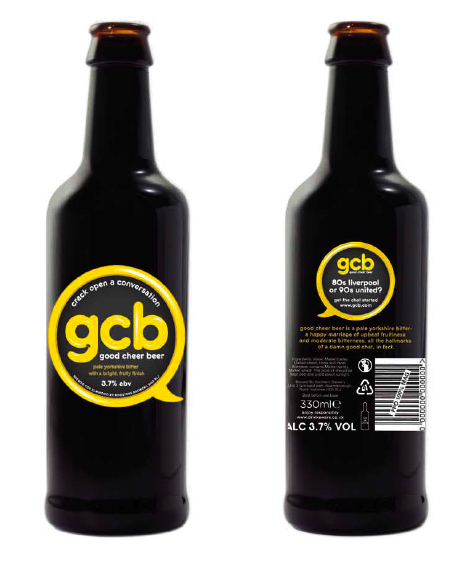 Good Cheer Beer — a drop of conviviality.
Having made thousands of friends online with the likes of Facebook,  as we broadcast to the world on Twitter , whilst building a network via LinkedIn we're beginning to realize that maybe these things leave us feeling slightly empty. That what we desire is some good old physical contact. In the case of a brand we created and launched ourselves, Good Cheer Beer, we felt the time was ripe for some traditional conviviality. Our ambition: to encourage people back to the pub for good conversation and good cheer. Maybe then they would look at the glass half full not half empty. We're not alone. The Stolen Supper Club though has a more subversive approach to conviviality. The restaurant 'steals' ideas, menus, from high-end restaurants, and invites people to dine with them in a secret dining space in Notting Hill. And Gastronomic artists Bompas & Parr have taken the desire for a more physical experience to the limit creating a live, walk-through dining event for cognac brand Courvoisier. Flooding a dining room with water and infesting it with eels, Bompas & Parr made people pass through on stepping-stones to taste dishes such as iris jellies, fizzy grapes and foie gras Ferrero Rochers.
Walls Ice Cream — making happy snappy
What would you normally pay for an ice cream? £2, £3? How about a smile? SapientNitro and Unilever have revolutionised ice cream vending machines by creating the world's first smile-activated one. The underlying technology is sophisticated, but the concept is simple: you walk up to the machine, smile and walk away with the goods.
When the motion detectors sense someone is near, the machine beckons them closer. Using face-recognition technology, it can recognise a person's age, gender and emotional state, and measures their smile on a smile-o-meter. If they smile wide enough, they get a free ice cream. You can also opt to have a picture of the happy snap uploaded to Facebook, which further supports Unilever's 'share happy' brand message. The vending machine will be rolled out at high-traffic locations across the globe over the next 18 months.
Is happiness then to paraphrase our madman Don again  'the greatest advertising opportunity since the invention of cereal'? Now there's a sobering thought.
About the Author

Greg Taylor became founding partner in global brand design consultancy Elmwood in 1989. Now Director of Brand Provocation, Greg is the creator and facilitator of Step Change™, Elmwood's strategic tool for moving ideas forward. Clients include ASDA, Wal-Mart, Arla Foods, BBC, COI (Defra and DfT), Cable&Wireless, Comic Relief, Debbie & Andrew's, Durex, Glasgow 2014 Commonwealth Games, McCain, and the Met Office.