Google: "20 Things I Learnt about the Browsers and the Web"
Google unveiled an interactive book to teach everybody about the web. The creative Google Chrome Team collaborated with illustrator Christoph Niemann to create a very nice guide in the style of children's books to unveil the simple truths about Internet and its technologies. The 62-page edition titled "20 Things I Learnt about the Browsers and the Web" is developed using HTML5 and can be viewed both online and offline (once you loaded the book in any HTML5-compliant modern browser, the Internet connection is not required to continue the reading).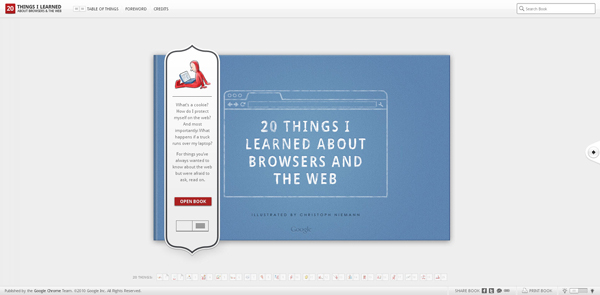 The 20 chapters, each starting with a cute picture relating to the theme, explain essential things about the Internet in a very clear and understandable way. The guide touches on on the themes such as browser cookies, security risks, open source, plug-ins and many more, which constitute the interactive experience as we know it today. The pages can be shared on Facebook, Twitter, or Buzz individually (the social media icons are on the red bookmark) as long as each of them has its own URL.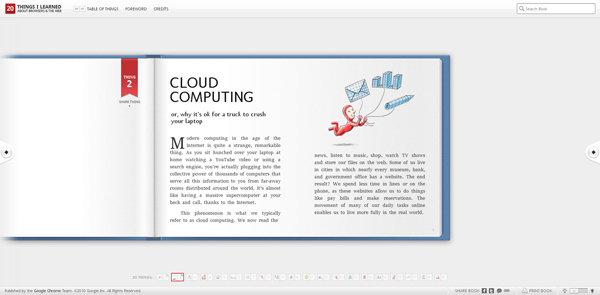 The book, written and edited by Min Li Chan, Fritz Holznagel and Michael Krantz, can be also viewed in the night mode by "turning off the lights" with a special switcher in the bottom of the page—this provides a real-life experience and is just like reading a book with a flashlight under blankets. ""20 Things"… continues our tradition of finding new ways to help explain complex but fascinating ideas about technology. Many of the examples used to illustrate the features of the browser refer back to Chrome," said Min Li Chan, Product Marketing Manager, Google Chrome.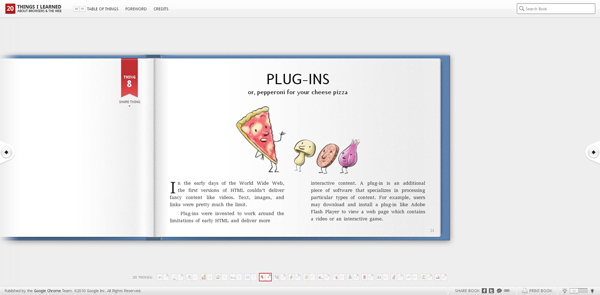 The previous HTML5 –based work by the Chrome Team is a hilarious interactive music video for Arcade Fire.