Nissan Educates Kids about Benefits of Electric Cars through a Graphic Story Project
Nissan catches consumers young and teaches them about ecology. The global auto maker is promoting the green initiatives among younger generation by launching a web program dubbed 'An Electric Vehicle in our Home.' The new graphic film project is targeted at elementary school children and explains them the benefits of having an electric car in the modern world, where dangers of ecological disasters have become as real as never before.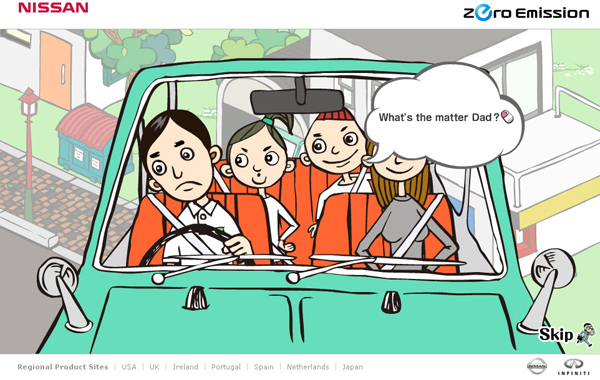 The auto brand is focused on providing ecological solutions to drivers, and has recently launched its 100% electric Nissan Leaf model, which was named 2011 European Car of the Year. The intention to commit to ecology began with the launch of Zero Emissions Program of the Renault-Nissan Alliance, under which the company promised to develop eco-friendly technologies and promote the brands' future electric cars. The innovative Nissan Leaf model, which has been developed as a part of the program, is going on sale in December in Japan and the United States, and from early 2011 will come to select markets in Europe.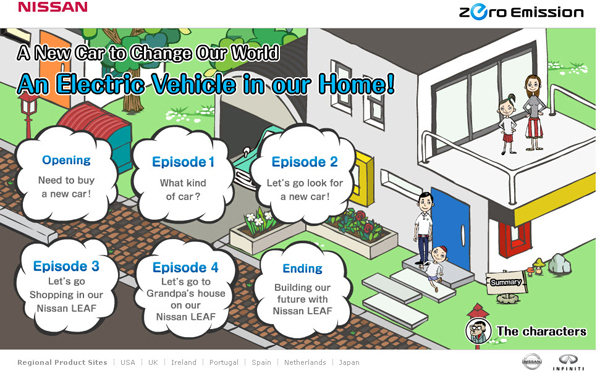 Now, the brand is promoting its state-of-the-art model among those, who will be buying the electric cars in 15 years. It created a graphic story on its www.nissan-zeroemission.com platform to highlight the best characteristics of the electric models and explain they are better than conventional ones. The kids are told essential details about Nissan Leaf, "the first mass-produced electric vehicle," and do a quiz to test their knowledge about the model. Each of the four episodes touches on the key notions about the new car—to date, the visual story about a family is available in English only.